Whitehawk want to change name to Brighton City
Last updated on .From the section FA Cup
Whitehawk have begun talks with the Football Association about changing the club's name to Brighton City.
The National League South club, which is based in east Brighton and reached round two of the FA Cup this season, hopes to make the change for 2016-17.
However, some Whitehawk fans oppose the change and have launched an online petition in an attempt to block it.
In December, chairman John Summers told BBC Sussex: "We believe it would widen the profile of the club."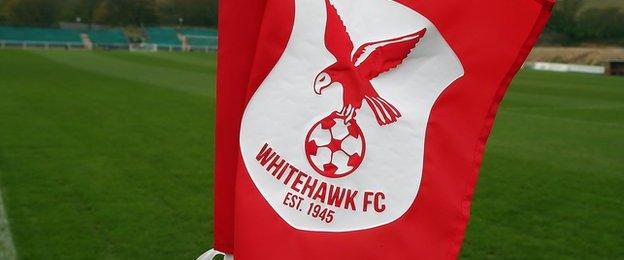 He continued: "We would represent the city as well as Whitehawk and that's an important factor. I think a lot of the public in Brighton would come and watch us."
Whitehawk, who only just missed on a lucrative FA Cup tie against Everton after an extra-time defeat by Dagenham & Redbridge in the second round, are currently eighth in the league.
A statement on the website carrying the petition criticised the club for offering no more than "a single sentence" of explanation.
The statement continued: "While we understand that Whitehawk's owners want the best for the club, we do not feel that changing the club's name to 'Brighton City FC' is the right choice.
"Not only is the current name unique, but the team's amazing FA Cup run this year offered a great amount of exposure for Whitehawk."