Premier League plans to help clubs as report released
Last updated on .From the section Football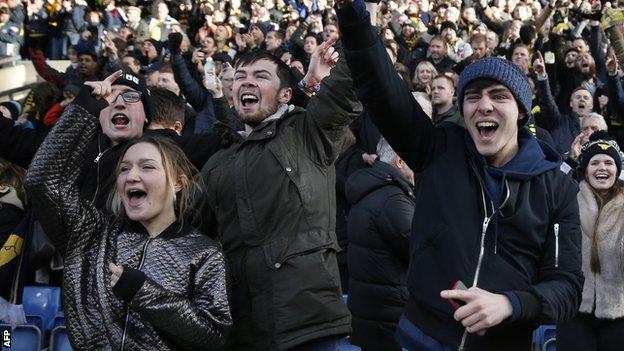 Football clubs and fans should meet twice a year to discuss "major issues", according to a government report.
Supporters' trusts should also be given the opportunity to bid for clubs that become insolvent, according to the Expert Working Group on Supporter Ownership and Engagement.
The Premier League has also proposed an extra £1m to help.
Sports Minister Tracey Crouch said: "Supporters are the lifeblood of the clubs they support."
"Over time there has been a growing disconnect between them and those that run their clubs," she added.
"So it was right that government set up this group and brought the football authorities and supporters together to see what more can be done for clubs to engage with fans."
Other recommendations of the report include:
Any planned substantial changes to club colours or crests to be discussed with fans as part of the structured engagement.
The FA to assess how to best engage with representative supporter groups within its decision-making structures as part of its current review process.
The football authorities agreed to keep the Owners and Directors Test under constant review and will take into account any feedback received from the supporter organisations through structured dialogue.
The report has been endorsed by the boards of the Football Association, Premier League, National League, Football League, Supporters Direct and the Football Supporters Federations. It follows consultation with ministers from the Department for Culture, Media and Sport.
The recommendations could help Championship strugglers Charlton Athletic and Bolton Wanderers.
The Addicks are 23rd in the league after a 6-0 hammering away at Hull City on Saturday, two days after re-appointing Jose Riga as head coach.
Charlton fans have protested against owner Roland Duchatelet and his apparent reluctance to communicate with them.
And Bolton fans have set up a Supporters' Trust in a bid to have a say in the future running of the club, which on Monday avoided an immediate winding-up order. Neil Lennon's side are currently bottom of the league.
The report has been criticised by the Manchester United Supporters' Trust (MUST) and the Labour party's shadow minister for sport Clive Efford, who both believe further reform is required.
Duncan Drasdo, chief executive of MUST, which opposes the Glazer family's running of United, said: "We are concerned that there was an effective veto for any member of the group, so that any meaningful reform which was not attractive to club owners was effectively blocked."