Man Utd tipped to reclaim position as world's richest football club
Last updated on .From the section Football
Manchester United are expected to become world football's biggest earners in the next 12 months.
Real Madrid topped Deloitte's Football Money League for the 11th consecutive year, generating 577m euros (£439m) in 2014-15.
Barcelona are second with 560.8m euros (£426.6m), with United third on 519.5m euros (£395.2m).
But Deloitte said there was a "strong possibility" United would overtake the La Liga sides in next year's edition.
What is the Deloitte Football Money League?
Deloitte is a professional services firm, whose sports business group produces an annual table of the clubs with the highest revenues.
The combined revenue for the top 20 clubs in the table rose by 8% from last year to 6.6bn euro (£5.08b), a new record.
Manchester United, who failed to qualify for either Champions League or Europa League last season, slipped from second to third following a year-on-year drop in revenue.
However, Deloitte said their "strong commercial growth" and "ability to agree impressive new sponsorship deals", such as the £75m-a-year Adidas kit agreement, compensated for a lack of European football.
With the new £5.1bn television rights deal starting from 2016-17 season, Real Madrid would come "under increasing pressure" next season and in future years, added Deloitte.
The wealth of the Premier League - mainly due to strong broadcasting deals - means 17 Premier League clubs feature in the top 30.
West Ham make the top 20 for the first time since 2005-06 with revenues of 160.9m euro (£122.4m), more than Turkey's top club, Galatasaray.
Deloitte's Football Money League - 2014/15 revenue

Position (last year's position)
Club
2014-15 Revenue (euro m) (2013/14 Revenue)
2014-15 Revenue (£m) (2013/14 Revenue)

1 (1)

Real Madrid

577 (549.5)

439 (459.5)

2 (4)

FC Barcelona

560.8 (484.8)

426.6 (405.4)

3 (2)

Manchester United519.5 (

518)

395.2 (433.2)

4 (5)

Paris Saint-Germain

480.8 (471.3)

365.8 (394.1)

5 (3)

Bayern Munich

474 (487.5)

360.6 (407.7)

6 (6)

Manchester City

463.5 (416.5)

352.6 (348.3)

7 (8)

Arsenal

435.5 (359.3)

331.3 (300.5)

8 (7)

Chelsea

420 (387.9)

319.5 (324.4)

9 (9)

Liverpool

391.8 (305.9)

298.1 (255.8)

10 (10)

Juventus

323.9 (279)

246.4 (233.3)

11 (11)

Borussia Dortmund

280.6 (261.5)

213.5 (218.7)

12 (13)

Tottenham Hotspur

257.5 (215.5)

195.9 (180.2)

13 (14)

Schalke 04

219.7 (214)

167.1 (179)

14 (12)

AC Milan

199.1 (249.7)

151.5 (208.8)

15 (15)

Atletico de Madrid

187.1 (169.9)

142.3 (142.1)

16 (New)

AS Roma

180.4 (127.4)

137.2 (106.5)

17 (19)

Newcastle United

169.3 (155.1)

128.8 (129.7)

18 (20)

Everton

165.1 (144.1)

125.6 (120.5)

19 (17)

Internazionale

164.8 (162.8)

125.4 (136.1)

20 (New)

West Ham United

160.9 (139.3)

122.4 (116.5)

All figures for the 2014-15 season have been converted at the average exchange rate for the year ending 30 June 2015 (£1=1.3145 euros)
Will the bubble burst?
Manchester United topped the first Deloitte Football Money League in 1998, with an overall revenue of £87.9m.
The report's author, Deloitte partner Dan Jones, was part of the team that compiled that table 18 years ago and recalls being asked then whether football's financial model was sustainable.
"I still think this is a growth market," he said. "If anything, there will be a small acceleration of growth in the next few years.
"It might level off a little bit, but that is what it will be rather than any sort of decline."
The usual suspects
Real Madrid, Barcelona, Manchester United and Bayern Munich have been a constant presence in the top five since 2008.
Runaway French league leaders Paris St-Germain have been in the top five for the past three years.
Bayern slipped two places to fourth this year, while the Premier League's bigger clubs pack the next level.
Manchester City remain in sixth place, while Arsenal moved above Chelsea into seventh and Liverpool sit ninth.
Italia giants Juventus, who won Serie A and were Champions League runners-up last season complete the top 10.
AC Milan were regulars in the top five in the early years of the report, taking third position in three successive years from 2003 to 2005.
However, the Italian club dropped out of the top 10 two years ago and slipped two further places to 14th this year.
Manchester United must start winning eventually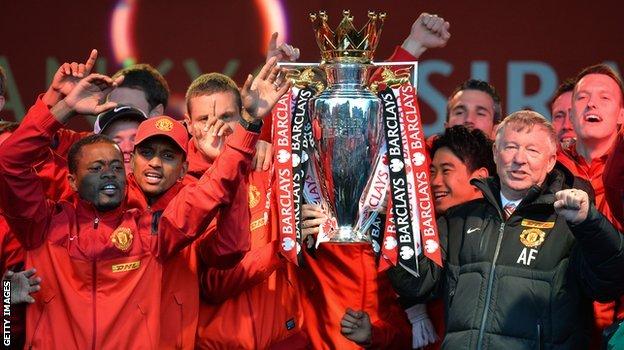 Manchester United's slip to third is a direct consequence of their failure to qualify for last year's Champions League.
Nevertheless, Deloitte says they could return to the top next year despite being eliminated from this season's competition at the group phase.
Their position in the list comes largely as a result of a commercial operation that continues to generate record sums.
However, United have not won a trophy since Sir Alex Ferguson's retirement in 2013 - and Jones expects the Old Trafford club to slip down the money table in future years if their barren run continues.
"You can be successful off the pitch even if you aren't successful on it for a time," said Jones.
"The reason Manchester United is able to be so commercially successful is because they had an incredible 20-year run of on-field success.
"I am not surprised to see Manchester United up there and challenging to reclaim that number one spot they lost 11 years ago.
"But I don't think that is a long-term sustainable position if they don't get more things going for them on the pitch."
The newcomers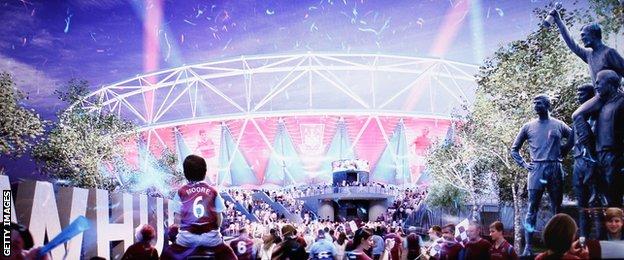 Premier League club West Ham and Serie A side Roma are this year's new entries into the top 20.
The Hammers, who were in the Championship in 2012 and have not won a major trophy since their 1980 FA Cup success, generated £160.9m.
That was only £3.9m less than Inter Milan, who won the last of their three European Cups under the guidance of ex-Chelsea and Real Madrid manager Jose Mourinho in 2010.
The London club's revenues are expected to improve further when they move into the Olympic Stadium for the 2016-17 season.
Roma have spent more years in the top 20 than outside it over the past decade and are pushing towards the top end of Serie A again thanks to the input of an American investment group led by Thomas DiBenedetto.
Premier League dominance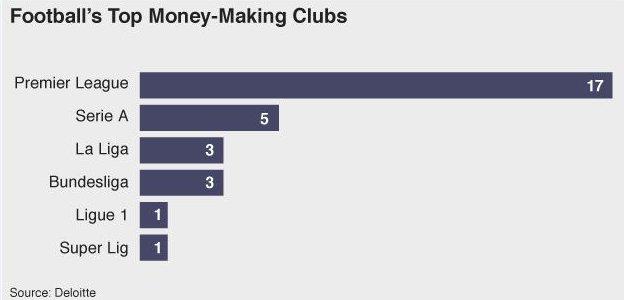 Nine of the top 20 clubs in Deloitte's list are from the Premier League.
However, the real strength of England's top flight is shown outside the top 20 - where eight of the next 10 teams are British, sandwiched in between Turkish club Galatasaray (21st) and Serie A leaders Napoli (30th).
From the 2014-15 season, the only Premier League teams missing from the list are Burnley, Hull and QPR, who were all relegated.
The dominance of the Premier League was assisted by the strength of the pound against the euro, which made buying players from the continent cheaper in relative terms.
With an enhanced TV deal, too, it explains how Stoke were able to spend £12m on former Bayern Munich player Xherdan Shaqiri from Inter Milan in August and newly promoted Bournemouth could sign Juan Iturbe earlier this month on loan from Roma for the rest of the season.
Elsewhere in Europe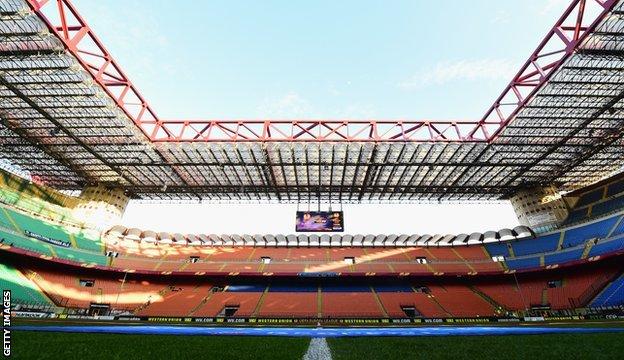 With the Milan clubs slipping and French teams - other than PSG - disappearing from the top 30 completely, it is clear that the hierarchy of European football is changing.
The Premier League's dominance only looks set to grow, given the £5.14bn three-year broadcasting deal that takes effect from 2016-17.
In Italy, Serie A clubs have a specific revenue-generating problem, according to Deloitte, because their stadiums are not suitable for the kind of corporate facilities that generate huge sums.
"We expect Real Madrid and Barcelona will remain in the top three, even when the new TV deal is in effect," said Jones.
"PSG and Bayern will be competing hard for a place in the top five, along with the Champions League-qualifying clubs from Britain.
"When you get to 21-30, the remainder of the Premier League is way ahead of its competitors elsewhere."