Manchester United tie delights Shrewsbury boss Micky Mellon
Last updated on .From the section Football
Shrewsbury Town manager Micky Mellon is delighted the club will have a "day in the sunshine" after they were given a home FA Cup fifth round tie against Manchester United.
They reached the last 16 after Jack Grimmer's injury-time goal gave them a 3-2 victory over Sheffield Wednesday
"Getting Man United is a big thing in anybody's life," 43-year-old Mellon told BBC Midlands Today.
"It makes a lot of people very happy. And we're enjoying that at the minute."
He continued: "We're trying to focus. We've a massive game with Southend on Tuesday but we're getting our day in the sunshine."
You make your own luck in football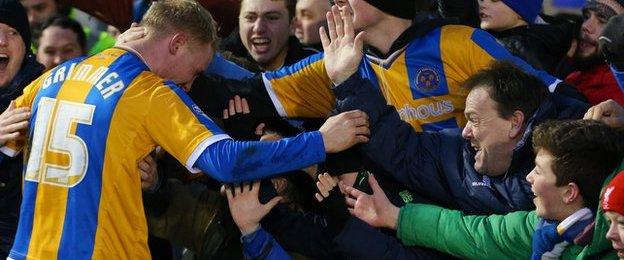 The fickleness of fate in football has never been spelt out more dramatically in what was a mad month of January for Mellon at the Greenhous Meadow.
After losing 7-1 at Chesterfield, the team's heaviest defeat in almost 52 years, Mellon was so under-fire from Town fans that the board were forced to offer him their public backing.
The Shropshire club subsequently lost twice at home in the league, to Barnsley and Oldham, against a backdrop of further terrace unrest.
Set against those disappointments have been three unlikely victories - Cup triumphs over Championship clubs Cardiff City and Sheffield Wednesday, and an away win at League One leaders Burton Albion.
Mellon's men rode their luck against Cardiff and even more so against the Owls, as two late penalty decisions at either end went against them, and they paid the price for picking a weakened team when on-loan Fulham defender Grimmer got the Shropshire side's 97th-minute winner.
The romance of the FA Cup
"It's great for the Shrewsbury fans," said Town boss Micky Mellon. "To get that last-minute winner, then sit around the telly on Sunday night and see us pull Man United. It doesn't get any better than that for any football fan.
"You have people stopping you to shake your hand. It's great for the fans. It's a chance to enjoy it, to go and milk every moment they can.
"Surely that's what this is all about in football. When you lose your romance and your love of the game and you don't get excited about things, draws and stuff like that, dreaming and thinking that it might just be your turn, then chuck it. Give somebody else a chance."
"But right now we're focused only on Southend. We have to show the form we've been showing on off more consistently."