Arsene Wenger's spell at Arsenal will not be matched - Guus Hiddink
Last updated on .From the section Premier League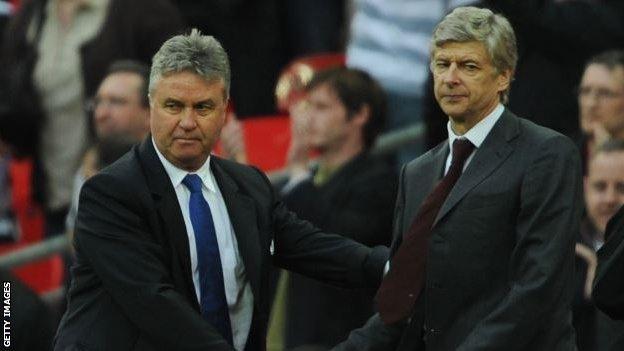 Chelsea interim boss Guus Hiddink thinks no Premier League manager will be given the same amount of time that Arsene Wenger has had at Arsenal.
Wenger, 66, has been in charge of the Gunners for nearly 20 years and has won the Premier League title three times.
However, the Frenchman went eight seasons without a trophy before lifting the FA Cup in both the last two years.
"He might be one of the last to sit on the chair that long," said Hiddink, who is in his second spell at Chelsea.
"Him being in charge in those years without a title means there is a lot of confidence from the board. It's always good to have men who have a long period at a club."
In the 19-and-a-half years Wenger has been at Arsenal, Chelsea have changed their manager 12 times - and won the Premier League title on four occasions.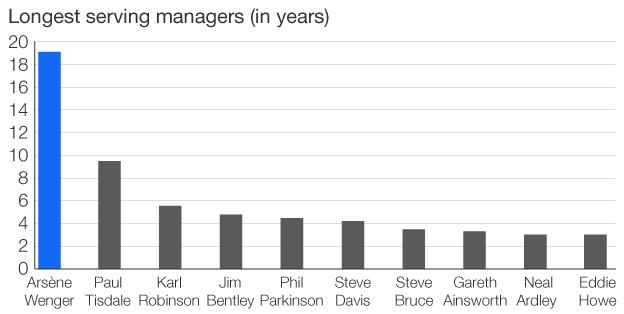 Asked why Wenger's longevity might be a thing of the past, Hiddink, who replaced Jose Mourinho after he was sacked in December, added: "I don't know why. Maybe the instant result is required.
"It depends on the club, on the philosophy and the calmness of a club."
Arsenal entertain Chelsea on Sunday and will return to the top of the Premier League with a win, although the Gunners have not beaten the Blues in eight Premier League games, a run stretching back to October 2011.
But Wenger is still talking down their chances of winning the league for the first time since 2003-04.
"Sixteen games to go is a long way. Sixteen games in some countries is the championship," said Wenger.
"I believe we have a strong spirit but spirit is a bit like the weather in England. It can change very quickly. And we have to take care of that."