Man Utd have underachieved this season - David Gill
Last updated on .From the section Football
Louis van Gaal's Manchester United side have underachieved this season, says former chief executive David Gill.
Saturday's 1-0 home loss to Southampton - United's sixth defeat of the campaign - leaves them five points behind fourth-placed Tottenham in the table.
There were loud boos from fans after the final whistle at Old Trafford.
"We all hoped results would be better," Gill, who is on the board of directors at the club, told BBC Radio 5 live's Sportsweek.
"I know everyone at the club is working hard to turn things around. We have to stick together."
'We want attacking football'
Gill would not be drawn on Van Gaal's future, saying any decision would be made by the club's owners, the Glazers, and executive vice-chairman Ed Woodward.
One of the main criticisms of the 64-year-old Dutchman's tenure has been about the style of football.
They managed just one shot on target against Southampton and have gone eight hours and 26 minutes without scoring in the first 45 minutes of games at Old Trafford.
"I am not going to sit here and say it is that attractive," added Gill, who said he went to the cinema on Saturday night instead of watching Manchester United on Match of the Day.
"For me, what we did in the past was great but you have to have the players to do that.
"Manchester United going back to the 1950s played in a certain way. We want attacking football and I am sure that will be a key part going forward."
'Boring winning every year'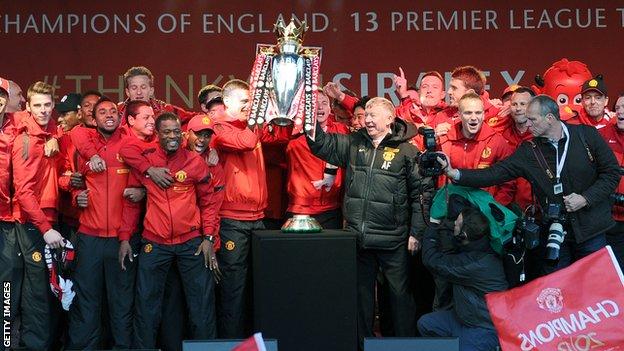 Manchester United have won 13 Premier League titles, with the last of those coming three years ago in Sir Alex Ferguson's final season in charge.
Van Gaal's side are unlikely to add a 14th this year as they trail surprise leaders Leicester by 10 points.
However, Gill said: "It would be boring if a team won every year in my opinion.
"We won the league in 2003 but then had a barren period with Sir Alex Ferguson. We did not win the league again until 2007. You have to accept that and that is the excitement of the game."
Giggs to manage elsewhere?
One person who has been suggested as a possible successor to Van Gaal is Ryan Giggs, who is the Dutchman's assistant.
The 42-year-old former Wales international has been at Manchester United, both as a player and a coach, since 1990.
However, Gill hinted that Giggs could consider leaving the club to take his first steps in management elsewhere.
"It is an interesting question and it will be something Ryan will be thinking about and discussing with the powers that be within Manchester United," Gill added.
"I don't disagree with the notion that you can't be a number two forever. You have to go out and prove you have what it takes and that you can do it in the firing line.
"There are clearly different traits required to be a number two and be in the hotseat as a number one."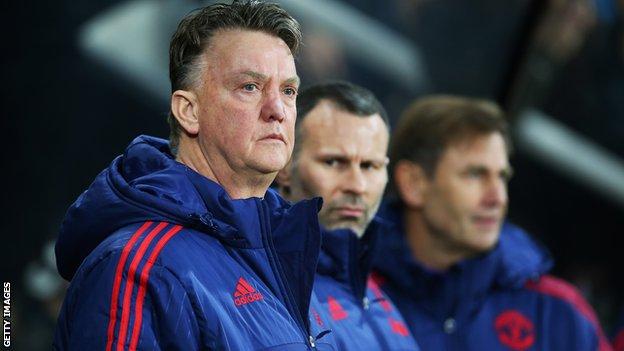 Analysis
BBC Sport's Simon Stone:
"Morale in the Manchester United camp is low, although that is only to be expected given the pressure they have been under for almost two months now.
"Louis van Gaal's future will be determined by executive vice-chairman Ed Woodward and the Glazer family.
"Understandably, they are saying nothing, but in doing so an air of uncertainty hangs over the club - and recent results and performances are doing nothing to help.
"Would Van Gaal benefit from a 'vote of confidence' or would it make an already difficult situation even worse?
"Woodward endorsed Van Gaal's appointment. Credibility-wise, he has a lot invested in the Dutchman - but he saw for himself Saturday's defeat by Southampton and the reaction to it.
"Woodward has proved himself as an astute financial expert. Now he must train his thoughts on the football."