Diego Costa cost us once more, says Arsene Wenger

By Phil McNulty
Chief football writer at the Emirates Stadium
Last updated on .From the section Football
Arsenal boss Arsene Wenger said they had again fallen victim to Chelsea's Diego Costa after Per Mertesacker's "harsh" red card in Sunday's defeat.
Mertesacker was sent off in the 18th minute after tripping Costa - who scored the only goal in Chelsea's win.
"Costa has got two of our players sent off in the last two games against Chelsea," said Wenger.
"Is the decision right or wrong? I don't know. That is a fact, without accusing him of anything."
Costa was also involved in the clash that saw Arsenal's Gabriel sent off in Chelsea's 2-0 home win in September.
Mythbusting - is Diego Costa a dirty player?
Arsenal see red against Chelsea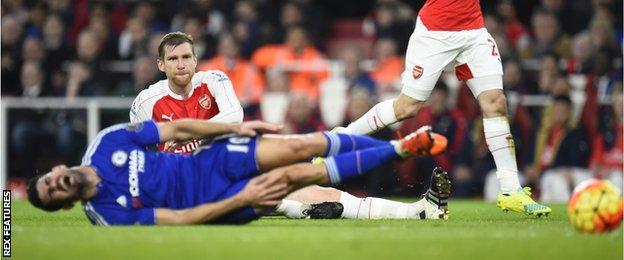 Mertesacker's 18th-minute dismissal changed the complexion of Sunday's game at the Emirates, with Arsenal's defeat leaving them three points behind Premier League leaders Leicester.
It is the seventh red card the Gunners have been shown in games against Chelsea - their most against any one team - and the third they have suffered this season against the Blues, with Santi Cazorla also sent off at Stamford Bridge.
Costa was given a retrospective three-game ban after that game for a clash with Laurent Koscielny.
Wenger added: "I don't know whether Costa was offside or not or whether Per Mertesacker touched him or not. It was a decision we had to take on the chin and I thought we did that.
"The referee was very quick to take the red card out. We coped with the decision well and should have had a draw at least. We had the chances. Mentally we were focused. Sometimes when you lose you can still say 'well done' to the players."
Asked whether Costa had made the most of the situation, Wenger said: "Yes. That is the game of the striker. Diego Costa is good at that."
Chelsea boss Guus Hiddink, predictably, disagreed and said: "There was no doubt. It was a great ball through and Diego could run straight at Petr Cech but he was tripped. That is obvious."
Wenger defends substitution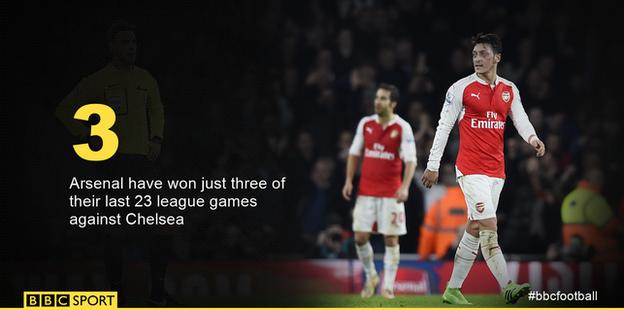 Wenger's response to Mertesacker's red card was to sacrifice main striker and 18-goal top scorer Olivier Giroud, replacing him with defender Gabriel.
Analysis: Why Wenger was wrong to take off Giroud
This left Theo Walcott and Joel Campbell as the Gunners' chief attacking threats, both of whom were later withdrawn and replaced by Alexis Sanchez and Alex Oxlade-Chamberlain.
Wenger said: "Do you want to make a poll on every decision? I thought it was quite a normal decision.
"We knew we had to go deeper and then use pace. The fact is we needed to get strength on the counter attack and needed pace - that's why I made that decision."
The league defeat is Arsenal's fifth of the season and their first at home since the 2-0 opening day loss to West Ham.
It leaves them level with second-placed Manchester City on points - but behind the 2013-14 champions on goal difference and two points above fourth-placed north London rivals Tottenham.
Can Chelsea still make the top four?
Chelsea's win lifts them to 13th place in the Premier League, 14 points behind fourth-placed Tottenham.
They are now on the longest current unbeaten run in the division, having won three and drawn four of their last seven games.
The reigning champions are unbeaten in all competitions since Jose Mourinho was sacked as manager in December following the 2-1 home loss to Leicester.
Captain John Terry insists a top four place is still "do-able" and Hiddink said: "When the captain says that then I will follow the captain.
"It is a gap and the Premier League is competitive with all teams whether you are down at the bottom or higher in the rankings. If the captain says 'yes' we will follow the captain."