Mansfield Town: Adam Murray says John Radford was key to win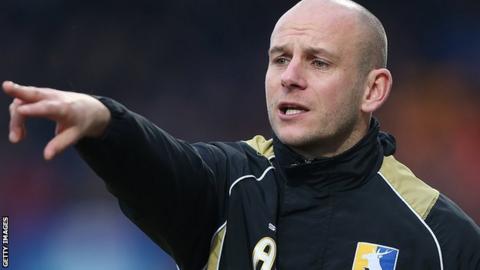 Mansfield Town manager Adam Murray has dedicated the 2-1 victory at Morecambe to club chairman John Radford.
Radford publicly backed the current squad leading into the game, pointing out the players had guided the club to "their best position in 12 years".
"The last 24 hours have been very important," said Murray. "The chairman has been very brave and honest.
"I could feel the freshness around the ground. The depressing feeling had lifted and this victory goes to him."
The Stags trailed 1-0 at the Globe Arena before late goals from midfielder Chris Clements and substitute striker Adi Yussuf stunned the Shrimps.
It was Mansfield's seventh League Two victory of the campaign away from home and carried them to within a point of the play-off places.
Murray added: "We have been through a bit of a sticky patch and the confidence has been low so to go 1-0 behind and show the spirit and hunger to come back is massive.
"The players have been anxious and haven't wanted to take risks - they've been happy to keep the ball and not really try anything. Confidence is not something that comes overnight, but this will help.
"There's so much progress I need to make. I have changed the brand and now I need to make it effective."