Euro 2016: Northern Ireland fans given 4,058 more tickets
Last updated on .From the section Football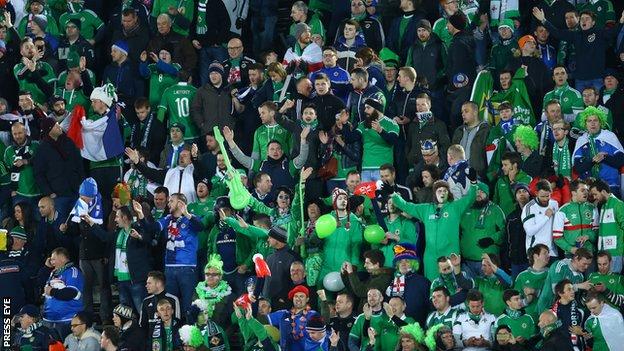 Northern Ireland have received an extra 4,058 tickets for Euro 2016, bringing the total for their three fixtures group in France to more than 29,000.
The initial allocation of 25,000 has been increased to 29,058 for the games against Poland, Ukraine and Germany.
An extra 816 tickets are available for the game against Poland on 12 June.
An additional 1,726 fans will be able to attend the Ukraine game on 16 June with the total for the Germany game on 21 June jumping from 8,000 to 9,516.
The Irish Football Association received over 50,000 ticket applications for Northern Ireland's matches at the tournament.
Supporters will find out by the end of February whether their applications have been successful, with priority to be given to those who attended games during qualification.
The smallest increase in tickets being made available is for the opening fixture against Poland in Nice, with the allocation rising from 6,000 to 6,816.
On Tuesday the Republic of Ireland were given more than 6,500 more tickets for Euro 2016 after talks between the Football Association of Ireland and Uefa.
Republic fans now have a total ticket allocation of 32,502 for their games against Sweden, Italy and Belgium.