Jersey boss Brian Little compares Muratti to cup triumph
Last updated on .From the section Football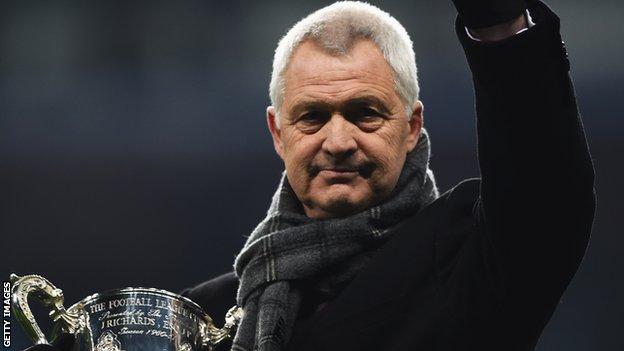 Brian Little says leading Jersey in the 100th Muratti final will be as big as winning the League Cup with Aston Villa.
"I might've won the League Cup final and I might have England caps but I'm going to be in charge for the 100th Muratti," he told BBC Radio Jersey.
"It's a fantastic occasion and to be part of it is brilliant for me."
The 62-year-old will retain his director of football title, a role he has held since since November 2014.
Last month, Jersey announced an intention to make a bid to join Uefa and play international football.
"They have every right to have that desire but you need to adopt a professional approach towards things, and that's probably where I'm going to start," Little added.
"Who better than someone who's played 300-odd games at the highest level of football and managed for 800-odd games at the highest levels of football in the UK.
"It's a challenge for someone like me, it's completely different to things that I've done before and it fits in with my schedule."
Little will continue to be based in the UK and will take weekly training sessions over the next few months ahead of the Muratti against either Guernsey or Alderney.
"All of those things which I've learnt as a professional football manager, I'll try to put into place in a dozen training sessions before the Muratti in May and hopefully a game or two as well," he said.
"I'm a football person - once I stick a pair of boots on and see a football, I try to run after it and I'm 60-odd now.
"It's this magnet, you can't run away from it and everything I do in my life revolves around a round football."