David Luiz: Paris St-Germain dominance not boring
Last updated on .From the section European Football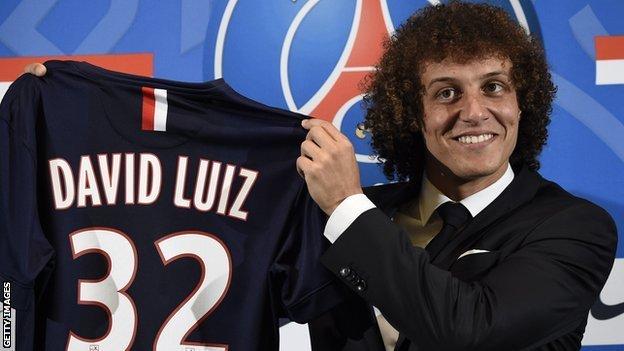 Paris St-Germain's dominance has not made Ligue 1 boring says defender David Luiz - at least for him.
PSG have won the title for the past three seasons and are 21 points clear of the rest as they pursue a fourth straight domestic crown.
"It can be boring for the people, but it's not boring for me to be at the top," Luiz told BBC World Football.
The Brazil international, 28, blames PSG's rivals for the lack of a title race in France.
"This season we started well and the others didn't. We just want to do our job - if we can win the league soon, we will try that," the former Chelsea centre-back added.
Capital gains - PSG's dominance in France

Season

Position

Point ahead of nearest rivals/behind champions

2015-16

1st*

21

2014-15

1st

8

2013-14

1st

9

2012-13

1st

12

2011-12

2nd

3

* - Still 16 games to go in the 2015-16 season
"In England there are more clubs there that have the possibility to win the title. But we have great clubs in France too - Marseille, Lyon, Monaco, St Etienne. It's always difficult to win matches."
No concerns over Paris security
Luiz was away from Paris on international duty on the evening of 13 November when co-ordinated attacks on the French capital killed 130 people.
His club future was put in doubt in the wake of the killings, with local media quoting him as saying that "playing for PSG is my job but if it were up to me I would not return".
However Luiz says that his comments were "changed" and that he has never been worried about his or his family's security.
"I was never afraid to come back to Paris. I trust the club, I trust this country," he said.
"It was not just football, and not just in Paris - all the world was together, and no-one wants these things to happen."
On the brink of greatness?
Paris St-Germain's best Champions League campaign came in the 1994-95 season when a side spearheaded by Liberian striker George Weah reached the semi-finals, losing 3-0 on aggregate to AC Milan.
Since then the club, who face Chelsea in this season's last 16, has been taken over by Qatar Sports Investments - a group established by Qatari emir Sheikh Tamim Bin Hamad al Thani - and a string of expensive signings, such as Uruguay striker Edinson Cavani and Argentina playmaker Angel di Maria, have followed.
PSG have been eliminated in the Champions League last eight in the past three seasons, but Luiz, who spent two and a half seasons at Chelsea, has warned his former club that their sights are set higher.

"With fantastic players, a fantastic coach, a fantastic president, we can do great, great things," he said.
Luiz scored a dramatic late goal when PSG beat the Blues at the same stage last season and says he is more confident going into this year's meeting.
"It was different from this season - last year we thought 'we don't need that now, but OK'. This year was a more natural reaction to want to play them," he added.
"My respect for Chelsea will be forever. I won many things at Chelsea, I still have the club in my heart, have respect for the fans. But I want to fight for PSG now."
You can listen to the full interview with David Luiz on BBC World Service's World Football show at 00:30 GMT on Friday 29 January or as a podcast.