Nemanja Vidic: Former Man Utd captain announces retirement
Last updated on .From the section Man Utd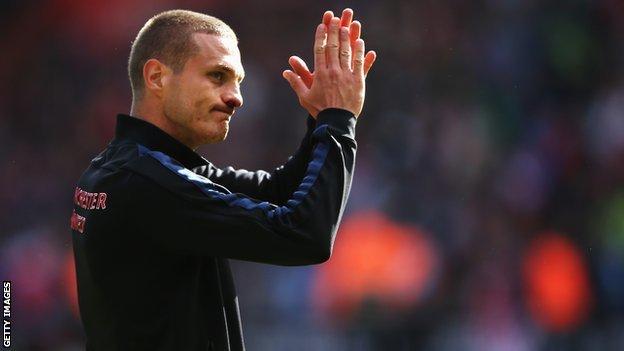 Former Manchester United captain Nemanja Vidic has announced his retirement from professional football.
The Serb, who won five Premier League titles and the Champions League in his eight-year spell at Old Trafford, says injuries have forced his retirement.
Vidic, 34, left Inter Milan by mutual consent in January after failing to make an appearance for the Serie A side this season.
"The time has come for me to hang up my boots," he told ManUtd.com
"The injuries I have had in the last few years have taken their toll.
"I would like to thank all the players I have played with, all the managers and staff I have worked with, and say a big thank you to the fans for their support over the years."
Vidic joined Inter Milan on a free transfer in July 2014 and made 28 appearances for the Nerazzurri in his first campaign, but did not feature for Roberto Mancini's side this season following surgery on a hernia in August.
He joined Manchester United from Spartak Moscow in a £7m transfer in January 2006, and quickly formed a centre-back pairing with Rio Ferdinand. Sir Alex Ferguson's side secured a hat-trick of Premier League titles between 2007 and 2009, as well as the 2008 Champions League.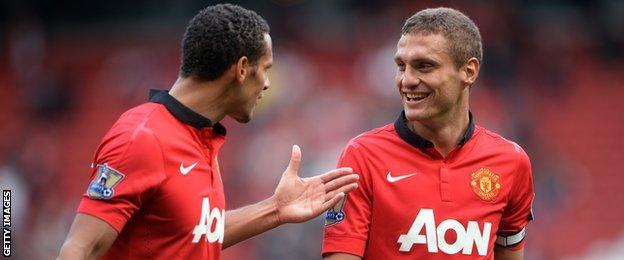 Vidic won two further Premier League titles, in 2010-11 and 2012-13, and three League Cups, but his later years at Old Trafford were badly affected by injuries, including ruptured cruciate knee ligaments against Basel in December 2011.
Ferdinand says Vidic initially seemed "out of his depth" in training sessions, but went on to become an "unbelievable force" in the United defence.
"In a dressing room it is a cold world where judgements are passed quickly without remorse - and Vida was judged!" Ferdinand, who retired at the end of last season, wrote on his official Facebook page.
"Vida is a deep thinker - he was then and he is now - so the questioning from all angles would have been frying his head in his first few months at the club as he struggled in training.
"But he worked on his strength in the gym, worked out what was needed for him to succeed in the Premier League and then started to establish himself in our team.
"He became a defender that was feared.
"He could fight with the most physical, he crunched into tackles, and he attacked the ball better than anyone I have ever seen.
"But, as he will tell you with a smile, he could also play with the ball too, which made him complete and a great defender."