Brian Little: Jersey boss can add 25% to island side, says coach
Last updated on .From the section Football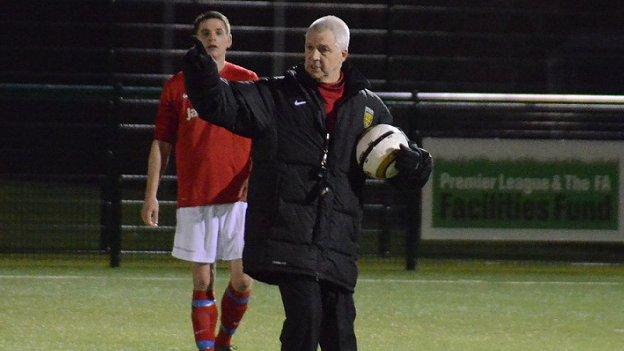 Brian Little's appointment as Jersey manager will boost the island side by 25%, according to coach Martin Cassidy.
"Hopefully the players have all bought into it. They asked for professionalism - they're getting that now and I could see a lot of them enjoyed the session," Cassidy told BBC Radio Jersey.
"The idea now is that Brian can help them to become a better team."
Jersey are preparing for their sole competitive match between now and the end of the season when they play fierce rivals Guernsey in the Muratti.
In December, Jersey announced an intention to make a bid to join Uefa and play international football.
"It'll give them an extra 25%," Cassidy said of Little's impact on the island side, who were knocked out of last summer's Island Games in the group stages despite being the hosts.
"It was just a simple session and the players were up for it, they were listening, they were keen and they were asking for the same thing next week.
"You have to have some football intelligence to be able to play under Brian, because he's asking you to be in certain places at certain times and you need to be understanding of that and pick it up pretty quickly.
"Technically we've got good players, and if we can add some development to their learning of the game, even though some of them are 26 or 27, if he can give them an extra 25% then we'll be even harder to beat and that's what we want."