Garth Crooks' team of the week: De Gea, Mahrez, Firmino

By Garth Crooks
Football analyst
Last updated on .From the section Football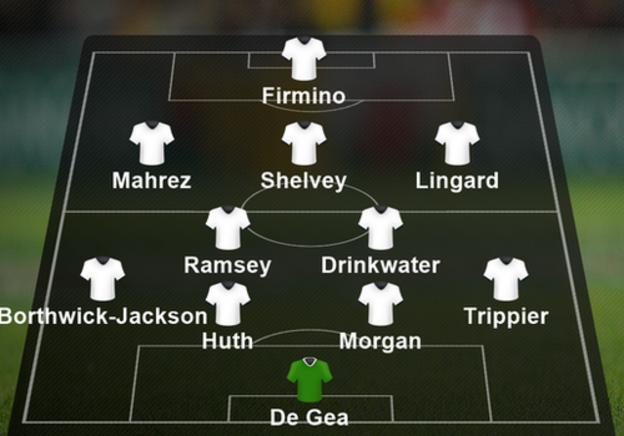 Leicester City moved five points clear at the top of the Premier League by winning 3-1 at Manchester City.
Liverpool let slip a two-goal lead against Sunderland to draw 2-2 and Sunday's big game between Chelsea and Manchester United ended 1-1.
But who were the outstanding performers? Here are my selections...
Goalkeeper - David de Gea (Manchester United)

Saves from Branislav Ivanovic, Cesc Fabregas and Diego Costa should have been enough to see Manchester United take all three points. There was a stage in the game when the Spain international looked unbeatable. Even the normally prickly Louis van Gaal said in his news conference that De Gea was "remarkable".
The only problem for United is that De Gea's performances will only serve to fuel Real Madrid's interest in the goalkeeper. If United were to qualify for the next season's Champions League it would help matters enormously but if they fail to make the top four then that would almost certainly lead to the departure of the Spaniard - as long as Real are allowed to buy players.
However there is one last scenario - Jose Mourinho replacing Van Gaal as manager might refocus his mind.
Defender - Kieran Trippier (Tottenham)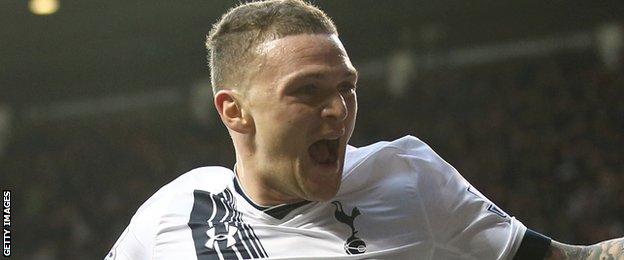 If you are going to score your first goal for your team, it might as well be the one that puts them second in the table.
There wasn't much to separate Spurs and Watford in this encounter apart from Kieran Trippier's penetrating runs down Tottenham's right flank. In fact it was Trippier's darting runs that in the end became Watford's undoing.
The full-back looked desperate at times to get into the action and never looked fazed in the opposition's penalty area. His slide-rule finish was indicative of his measured performance.
Defender - Wes Morgan (Leicester City)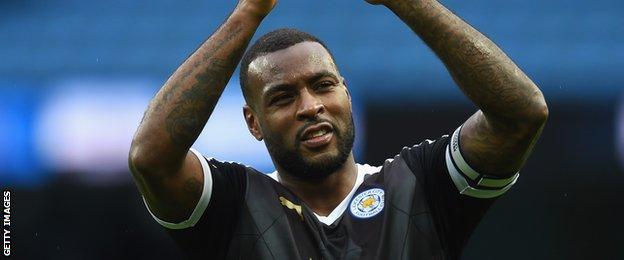 Leicester City lifting the Premier League title doesn't sound so ridiculous anymore, although I still have a problem visualising Wes Morgan and his team-mates holding the trophy aloft at Stamford Bridge on 15 May.
Regardless of what happens between now and the end of the season, Leicester City's demolition of Manchester City has won Morgan and his team enormous respect. People are now having to take them seriously.
At the heart of this amazing season Morgan has shown remarkable strength and dignity in the way he has led his team to five points clear at the top of the Premier League.
Everybody expected Leicester to be propping up the league table, not winning the damned thing.
Defender - Robert Huth (Leicester City)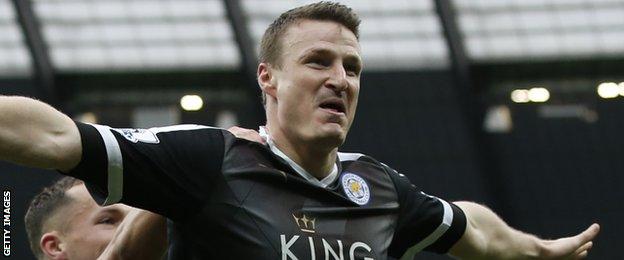 I had to see it to believe it. Manchester City 1-3 Leicester City. It was like a fox chasing chickens in a coop. I can't remember when I saw so many non-performances by a cast of City superstars.
The star of the show was undoubtedly Robert Huth. I expect the defender to stop his side from conceding goals against City but I didn't expect him to score them as well.
In the corresponding fixture in December, Huth was just as impressive but without scoring the goals. He certainly knows how to put the wind up Manuel Pellegrini's boys. Another immense performance by the German.
Defender - Cameron Borthwick-Jackson (Manchester United)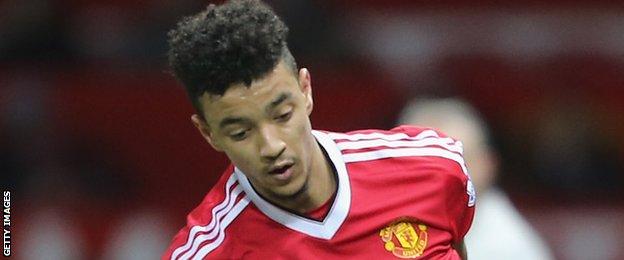 With such an illustrious name as Cameron Borthwick-Jackson, you had better be good at something.
Well, the Manchester United full-back has certainly distinguished himself since his arrival at Old Trafford and not in a particularly good side.
Against Stoke last month, he provided the cross for Jesse Lingard to score and against Chelsea on Sunday he coped admirably against their best player Willian.
United have had some world-class full-backs over the years and if Borthwick-Jackson intends to establish himself in that position he is going to have to fill some very big shoes.
Midfielder - Danny Drinkwater (Leicester City)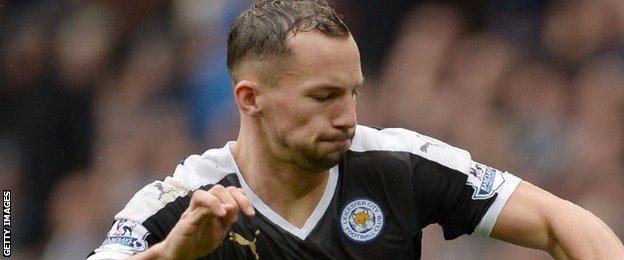 When a player is shown the door at club like Manchester United, it takes enormous character to establish yourself again.
Danny Drinkwater must be walking on air right now. Not only are he and his team-mates five points clear at the top of the Premier League table, he is playing the football of his life. Against Manchester City he produced yet another performance graced with purpose and endeavour.
It's not often a player leaves Manchester United to go to another English club to lift a Premier League title, but that's what's at stake now.
Midfielder - Aaron Ramsey (Arsenal)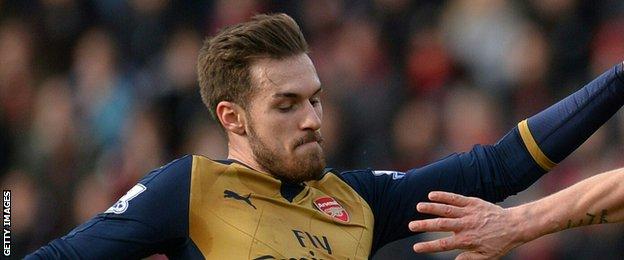 This was a game that was over in 25 minutes.
Arsenal looked like a team recovering from a sticky patch and did what had to be done in order to win a football match and remain in touch with the league leaders.
Aaron Ramsey's performance against Bournemouth was the one outstanding feature in an otherwise routine performance without any of Arsenal's usual skills and frills.
Forward - Jesse Lingard (Manchester United)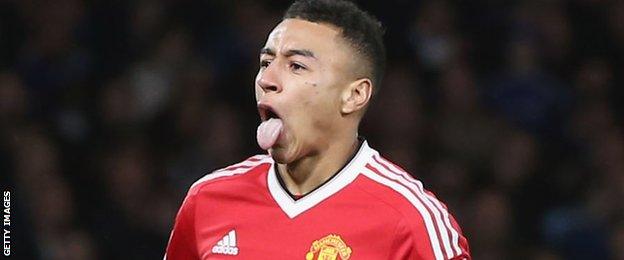 I like this lad a lot. His performance against Chelsea was impressive but his finish will have everyone talking about him. The way he controlled the ball with his back to goal and smashed it past Thibaut Courtois on the half-turn was superb.
This is a player who can play but also score goals. I suppose you would expect that from a Manchester United player but one journalist sitting next to me at Stamford Bridge asked if I thought he was ready for England. When you can play like that away at Chelsea for Manchester United and score goals past one of the best keepers in the world, I think you're ready.
Midfielder - Jonjo Shelvey (Newcastle)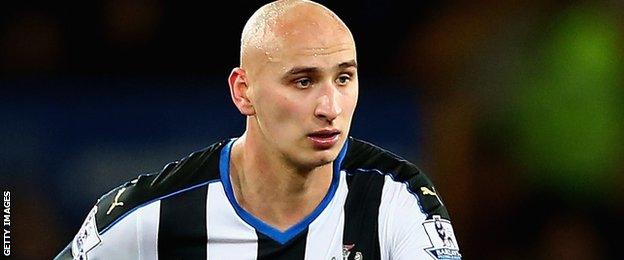 This is the second time Jonjo Shelvey has made my team of the week since his move from Swansea.
His first appearance was on his Newcastle debut, however his performance against West Brom was even better. He seemed to spray the ball around St James' Park with consummate ease.
The ball he provided for Aleksandar Mitrovic to go on and score past Ben Foster was just superb. With the arrival of Andros Townsend, Shelvey has another moving target to set his sights upon.
What a pity Steve McClaren couldn't convince Saido Berahino to sign for the Magpies in the transfer window. Add a player like that into the mix and suddenly Newcastle are cooking with gas again.
Forward - Riyad Mahrez (Leicester City)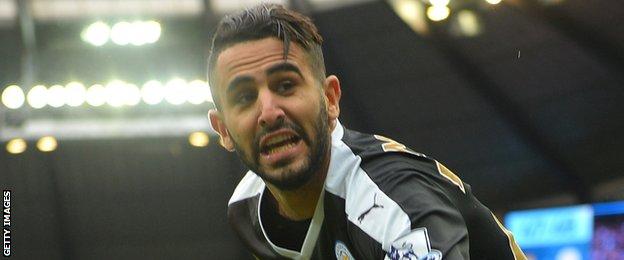 Seven games without a goal, but when you can finish like Riyad Mahrez who cares? He provided the cross for Robert Huth to score Leicester's opener. Mahrez then proceeded to waltz round Martin Demichelis to score a fabulous goal and put the game well and truly beyond Manchester City.
At this point it suddenly occurred to me that this lad only cost Leicester City £400,000, while Manchester City's Raheem Sterling cost £49m. Which rather begs the question 'how does football come to terms with such a difference in value between two almost identical players?' What's more - and it aggrieves me to say it - on this showing, Mahrez looks a better player.
Striker - Roberto Firmino (Liverpool)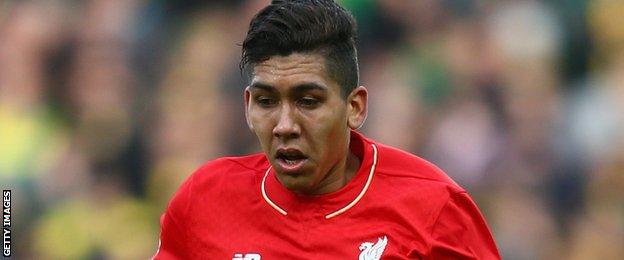 It's just as well Roberto Firmino is coming good for Liverpool.
With no Christian Benteke, no Daniel Sturridge and - due to appendicitis - no manager Jurgen Klopp, Liverpool can't seem to get their most influential personnel working together all at the same time.
Firmino scored the first and then made the second for Liverpool against Sunderland, but that didn't seem to deter the Black Cats from initiating a comeback.
It's hard to determine whether Liverpool's demise had anything to do with the fans' 77th minute walk-out protest about the club's proposed ticket-pricing policy, but if I were advising Liverpool I would have them revise that policy sharpish.