Barcelona penalty: Was it disrespectful or a touch of genius?

By Andy West
Spanish football writer, in Barcelona
Last updated on .From the section European Football819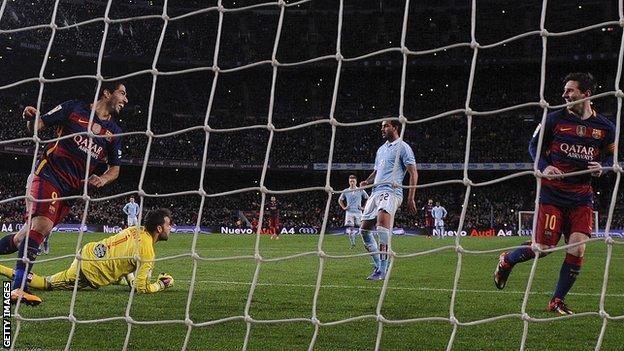 When Barcelona's Lionel Messi was felled inside the area against Celta Vigo on Sunday night, most people inside the Nou Camp wondered who would take the penalty.
Messi, the usual taker, had deferred to Neymar on previous occasions this season, but both had poor recent records from the spot and Luis Suarez was on a hat-trick.
In fact, Barca had something far more memorable up their sleeves, with Suarez rolling in Messi's impudent pass to make it 4-1.
After the 6-1 win, Barcelona boss Luis Enrique accepted: "Some will like it, some won't."
Predictably, the Nou Camp loved it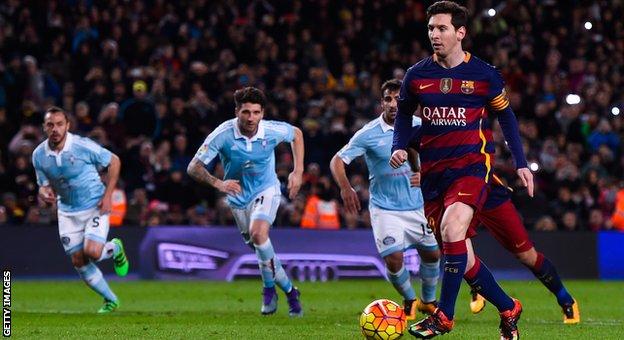 More than 70,000 fans inside the Nou Camp erupted in a combination of joy, delight and bewilderment, and as the players returned to the centre circle Barca fans made it clear who they gave most credit to by launching into a long and sustained chant for Messi, even though Suarez had just completed his hat-trick.
It set the tone for a mesmerising final 10 minutes as Barca pulled off tricks and flicks galore, scoring two more brilliant goals through Ivan Rakitic and Neymar - both from Suarez passes - as the fans set off a Mexican wave to create an atmosphere which felt more like a party than a football match.
Another element to the goal is the fact that a similar penalty was taken and scored in 1982 for Ajax by Johan Cruyff, a legendary figure at Barcelona after starring for the club as a player and later enjoying great success as coach.
Cruyff has lung cancer, and although there has been no indication from Messi or Suarez that their penalty was intended as a direct tribute to the Dutchman, it has certainly been well received by many Barca fans as a nice way of invoking memories of Cruyff's career.
But the highlight of Barca's six-goal show didn't leave everyone happy.
Was it disrespectful and arrogant?
Messi and Suarez's 'indirect penalty' received a mixed reception, with allegations they had been disrespectful to their opponents with such an unconventional move.
It is not the first time Barca have been accused of arrogance and the penalty can be framed as part of a wider discussion over whether the Catalan giants take things too far in their desire to win in style.
Neymar, in particular, has regularly been accused of using his extravagant skills to embarrass or even humiliate his opponents, most famously last year when he was accosted by furious Atletico Madrid players in the tunnel after a cup game between the teams.
And it was notable that Sunday night's penalty incident was immediately preceded by another example of Neymar's flamboyance, as he drew cheers from the home fans by conjuring a 'rainbow flick' to lift the ball over an opponent's head near the centre circle.
Neymar claimed Messi's pass had been meant for him, but it was probably fortunate for both the Brazilian and Barcelona that Suarez ended up scoring, because the 'disrespect' line would have been given a much sharper edge if Neymar had been the perpetrator.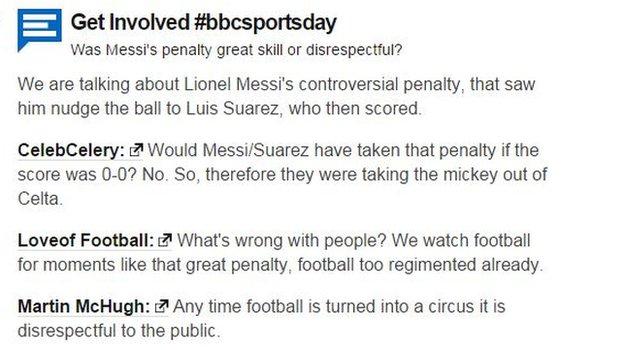 Celta didn't complain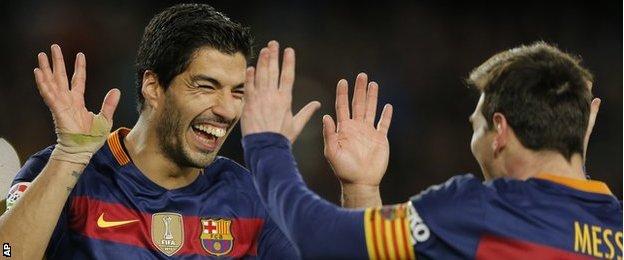 The victims of Messi and Suarez's audacity, Celta Vigo, at least, were not complaining.
The first question thrown at visiting manager Eduardo Berizzo in his post-game media conference was whether he had been offended, and he was firm in his rejection of that notion.
"Barca's forwards are very respectful and they can score goals however they want," he said. "The penalty was taken in a different manner, that's all."
The same opinion was shared by Celta defender Gustavo Cabral, who also insisted there were no hard feelings towards Barca.
"It bothers me because they scored a goal, not because of the way they scored it," said Cabral. "It's strange, something you don't see much. We weren't alert and we should take care of these details so they don't cost us."
Enrique showed his disdain for the debate by noting: "In this country, kicking someone is more accepted than flicks and tricks.
"We are the first to respect our rival and our motivation is to win through football. If someone scored a goal like this against me, I would go to the middle of the pitch and get on with the game."
The same argument was made by Barca skipper Andres Iniesta, whose opinion carries great weight due to the respect he commands throughout the country (even in Madrid) thanks to his goal which won the World Cup for Spain in 2010.
"I suppose it's something that people will talk about because it was unusual," admitted the midfielder. "But it wasn't a lack of respect. We are very respectful to our opponents and I don't think there's any need for a debate."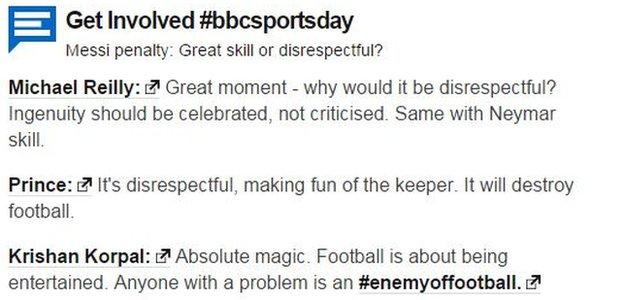 Anyone in Madrid with an opinion?
Many fans and media - particularly those based in Madrid and with a liking for white shirts - came down hard on Barca.
Perhaps the most histrionic response came from Tomas Guasch, a reporter for the COPE radio station, who rather surreally remarked: "If this penalty had been invented by Cristiano Ronaldo and Karim Benzema, people would be saying they should be sent to Afghanistan."
That prompted much hilarity from Barcelona fans who enjoyed themselves by pointing out the unlikeliness of Ronaldo ever passing up the opportunity to score himself.
One journalist, Quim Domenech, summed up those sentiments on popular TV show 'El Chiringuito De Jugones' by noting: "Messi gave an assist which Cristiano never would in his life."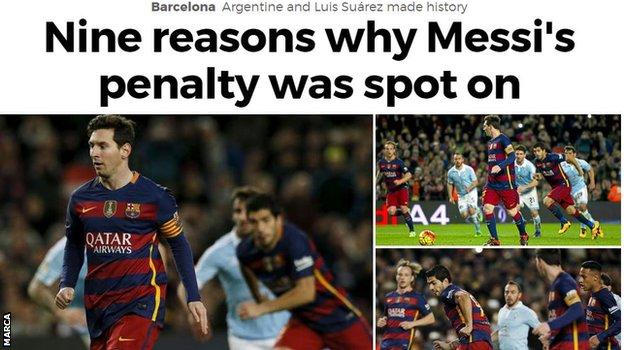 More reasonable objections to Messi and Suarez's antics were raised by Diego Acedo from Marca, who argued: "I think it's a lack of respect, because Barca are the best team in the world and they don't need to do that sort of thing."
However, thankfully the topic wasn't simply reduced to a Madrid v Barca petty point-scoring exercise.
Sports newspaper Marca - normally known for their fierce pro-Real stance - led their website on Monday with a story entitled 'Nine reasons to defend Messi's historic penalty', which started by noting it was entirely legitimate and included the observation: "There's no point in celebrating the spectacle of the NBA if we don't do the same with football."
And perhaps the final word should go to Radio Marca director Paco Garcia Caridad, who tweeted: "When a team plays like Barca, with those three animated cartoon characters up front, you get up and applaud without stopping. Spectacular."
What is the law?
The ball is in play when it is kicked forward from the penalty spot, allowing a team-mate to shoot - or even pass back to the taker.
The taker cannot play the ball again until it has touched another player -
read more here
What would happen if Manchester United tried it?
"Rooney would pass to Martial, who would pass to Carrick, back to Smalling and then to De Gea" laughed Joel Castle and several others on social media.
Dan Tracey via Facebook, referencing Manchester City's reaction to the notorious Thierry Henry and Robert Pires botched attempt in 2005: "Somewhere Danny Mills is probably fuming about this."
Andrew Garner: "People who say it's disrespectful provoke me to ask the question: why do you watch football then? I remember Neymar doing a rainbow flick last season and there being a massive uproar saying it's disrespectful. Nothing wrong with players showing how good they are. I hope Barca keep destroying teams with the skill and arrogance they possess because it's entertaining to watch."
Paul Clarke: "Just awesome, and what football should be all about, great skill and ability and entertaining. Too many English teams have forgotten the meaning of the 'beautiful' game.