Scottish Premiership sees international broadcast rise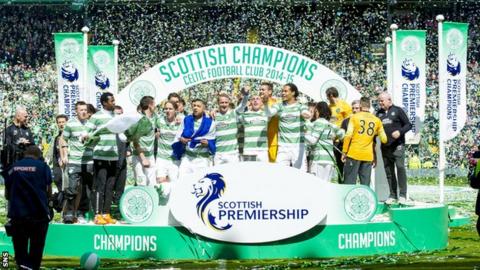 Scottish Premiership matches are now being broadcast to more than 100 countries around the world.
New figures estimate that more than 300 million homes worldwide now have access to channels showing Scottish games.
However, the increase in reach does not add to the current annual global broadcast revenue of about £2.5m since it is part of a continuing contract.
The latest Scottish Professional Football League Broadcast Report says 102 territories can now access games.
This represents an increase of 40 countries in a year.
The SPFL report - compiled by MP and Silva, which works with the SPFL to sell broadcast rights - states that Premiership games could now potentially reach 321,210,500 homes worldwide.
Matches are now being shown by Fox Sports in Latin America, by Perform Media and Sky Perfect TV in Japan, while LeTV is increasing reach in China.
Coverage across Europe has risen from 13 to 18 countries in 2015/16, with Hungary and Romania via DigiSport both new additions and French SPFL coverage now led by Canal+, while in the Middle East and North Africa BeinSport has increased its reach of SPFL games.
Last year, the SPFL agreed a deal to show live Scottish football on mainstream television in China for the first time, which is thought to be worth £500,000 a year for three years.
SPFL chief executive Neil Doncaster said he hoped the broadened exposure would "open up all manner of possibilities for our clubs from marketing and developing new commercial partnerships to opportunities to sell into what can often be a lucrative transfer market".
He added: "The SPFL and its commercial team will continue to work closely with our broadcast partners to further expand awareness and coverage of our game for the benefit of supporters and clubs alike."
In an increasingly competitive football marketplace, building a profile in emerging markets - particularly the Far East - is increasingly seen as a priority by those in charge of running the game.
The huge revenues being generated by the global appetite for the Premier League in England appears to be causing a ripple effect across Europe.
The Premier League sold its television rights for more than £5bn, which will give English clubs even greater financial clout when it comes to competing for the best players in the world.
Recent plans floated by Bayern Munich's Karl-Heinz Rummenigge for a "closed-shop" Champions League competition involving clubs from only England, Germany, Spain, Italy and France are seen by some as a reaction to the huge amounts of money going to the English game.
Doncaster described the idea to change the format of Europe's top club competition as "sinister" in its implications for so-called "second-tier" nations like Scotland.
The SPFL will hope that these latest figures demonstrate that Scottish football still has a place in the global football market.