Manchester United fans plan £71 Midtjylland ticket protest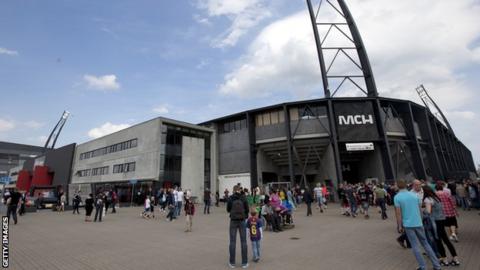 Manchester United fans are planning to protest about the £71 they are being charged for a ticket for their Europa League game at Midtjylland on Thursday.
Southampton supporters were charged £22 for a Europa League play-off match against the Danish champions in August.
United We Stand fanzine editor Andy Mitten said: "Do they think United fans are three times wealthier than Southampton fans?"
A fans' banner to be unfurled at the game reads: "Welcome to Scamdinavia."
FC Midtjylland failed to respond to requests for a comment on Tuesday.
Mitten said the price United supporters were being charged for the first leg of the last-32 match was "extortionate".
He added: "The combined cost of all three tickets for Manchester United's Champions League away games was only £75.
"Midtjylland are ripping fans off - their own and the 800 travelling fans."
Duncan Drasdo, chief executive of the Independent Manchester United Supporters' Trust, said the ticket price was "a real slap in the face".
Last week, Liverpool's owners abandoned plans for a £77 top-priced match-day ticket for next season after fans staged a walkout protest during their home game against Sunderland.
The Black Cats, meanwhile, have announced reductions to their season-ticket prices for the 2016-17 campaign.