Ipswich Town striker Brett Pitman says Jersey league is 'pointless'
Last updated on .From the section Football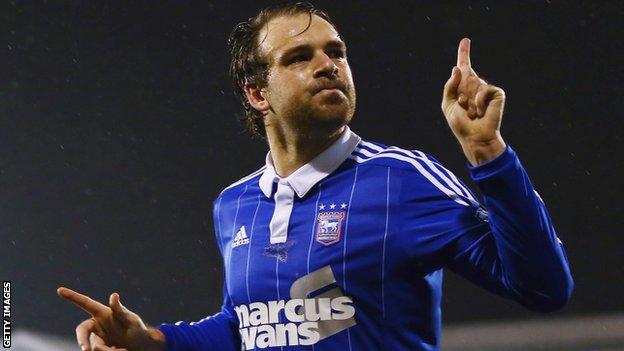 Jersey-born Ipswich Town striker Brett Pitman says the league on the island has "become boring and pointless".
The 28-year-old is the island's most successful current player, scoring 27 Championship goals since August 2013.
"I've spoken to a few of the lads and they're not particularly happy and getting a bit disillusioned with the whole Jersey FA, I think," he said.
"Something definitely needs to be done because it can't be good for players' development, or even their enjoyment."
Pitman played in the Jersey Football Combination as a youngster for St Paul's and First Tower United before joining Bournemouth as a trainee.
St Paul's are one of only two teams, along with Jersey Scottish, to have won the island league in the last nine seasons.
"From what I've been told from various people Jersey football needs something to happen to it," Pitman told BBC Radio Jersey.
"Playing week in week out and the same team winning every year - it becomes boring and it becomes pointless really."
In December the island made a bid to follow Gibraltar and play international football, taking part in European Championship qualifiers.
"Jersey definitely needs that. If I haven't represented anyone else and if Jersey do have a team in it, it's something I would definitely like to do and play in," Pitman added.