Premier League is Barcelona's biggest rival, says president
Last updated on .From the section European Football32
The Premier League is a greater threat to Barcelona than traditional rivals Real Madrid, according to Barca president Josep Maria Bartomeu.
That financial power concerns Bartomeu.
"Premier League teams will have an incredible financial situation from now on and we are worried," he told BBC sports editor Dan Roan.
In the interview, Bartomeu also discussed:
Champions League wildcards for big clubs who fail to qualify

The idea that Manchester City are out to copy Barcelona

Plans to increase Barcelona's annual revenue to 1000m euros

The impact Luis Suarez has had on Lionel Messi and Neymar

And the ongoing tax problems faced by some Barcelona players
In the latest Deloitte's Football Money League - a list of the highest earning clubs around the world - Real Madrid (£439m) and Barcelona (£426m) are first and second respectively.
Manchester United (£395m) are third but look set to jump into first next year amid expectations they will become the first British club to earn more than £500m in a single year.
United's rise demonstrates the growing might of the Premier League, which has 17 clubs in the Football Money League's top 30.
Bartomeu, who admits the Premier League is the "best football competition" because it has "the most interest for fans" and "most revenues, says La Liga clubs to address the imbalance.
"We have to do our best to increase our revenues and our financial situation to make the talent of our teams stay with us," he said.
"That is why I am so worried and we are working on this. We want to keep the talent at home."
Despite the Premier League's financial muscle, Bartomeu still believes in the pulling power of his club.
"None of our players said they want to leave," he said. "Most get better economical offers, but our players are not in Barcelona for the money... they are there because of the football and the fans' commitment."
Champions League wildcards
Barcelona claimed their fifth Champions League crown last season, but what would happen if they didn't qualify for the competition?
Bartomeu thinks the top clubs should be given special entry if they somehow miss out.
"Sometimes, for the interest of football, why not give wildcards like in tennis?" he says. "Sometimes the top players don't qualify and are given wildcards. This can happen in football.
"Sometimes clubs have a bad season and it is a big punishment to not play in the Champions League.
"We need a stronger Champions League and more and more interest for the football fans and to make it more competitive."
Man City and Guardiola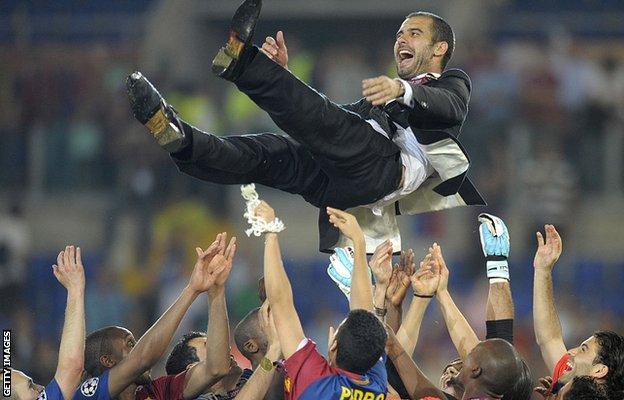 Bartomeu has also had his say on Manchester City, who will be managed by ex-Barcelona boss Pep Guardiola from the summer when he is due to leave Bayern Munich.
With former Barca officials Ferran Soriano and Txiki Begiristain already in key positions at City - chief executive officer and director of football respectively - there has been talk that the Premier League club is trying to become the 'Barcelona of Britain'.
But Bartomeu disagrees.
"I don't think City are replicating anything," he said. "Like a lot of clubs in the world, they have a project to make the club grow.
"Some of their people used to be with us at Barcelona and they are bringing their experience to the club.
"This is normal because in Europe there is the movement of professionals from one to another."
On the issue of Guardiola, who won 14 trophies in four years at the Nou Camp, Bartomeu is effusive.
"Pep will do well at any club," he said. "He has very good ideas for football. The Premier League will have the advantage of having one of the best coaches in the world."
Suarez, Messi and Neymar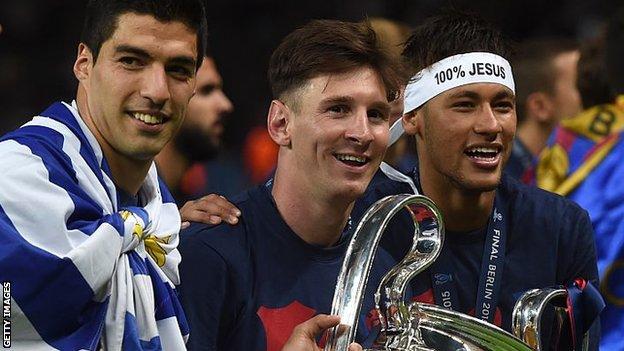 Bartomeu has praised Luis Suarez for the impact he has had on Barcelona following his £75m move from Liverpool two seasons ago.
"We are very happy with him," said Bartomeu. "We knew he was an incredible player and he has been better than expectations."
With fellow South Americans Lionel Messi and Neymar, Suarez has formed arguably the most potent strikeforce in world football.
"Right now, we are happy because we have the best players in the world," said Bartomeu.
"Messi is with us, Neymar is an incredible player of the future, but Suarez brought the balance to them. Together, this trident is incredible.
"The fans of Barcelona have never seen players do this."
The Nou Camp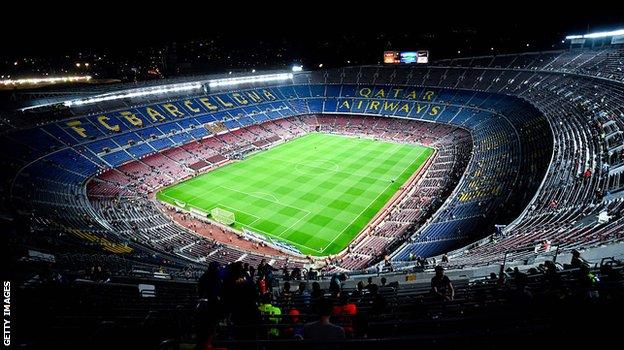 Bartomeu says that, in the next 12 months, Barcelona may decide to have "title rights holders" for the Nou Camp to help raise 420m euros (£327m) to refurbish the famous stadium and increase its 99,750 capacity.
He said the move may cause "controversy" but said all key decisions "would be voted on".
The move is all part of a plan to increase Barcelona's financial clout.
His goal is for the club to generate 1,000m euros (£780m) in annual revenue in order to "develop our club and make it bigger".
Barcelona's tax problems
Barcelona players continue to be dogged by questions of tax.
Defender Javier Mascherano has admitted tax fraud but is expected to avoid jail, while fellow Argentina international and world player of the year Messi faces trial alongside his father over tax fraud charges.
Team-mate Neymar has denied any connection with allegations of corruption and fraud surrounding his transfer to Barcelona.
But in a separate tax fraud case in his native Brazil, the striker has had $50m (£34.5m) of assets frozen by a court.
Bartomeu insists the club are not to blame. claiming "it is the private problems of the players".
However, the ongoing issues have led to increased speculation that some stars could leave.
Bartomeu claims most of the players in Spain had been "in tax review" in the last few years and had paid extra taxes.
But he argued that it was the "responsibility of their tax advisors if they do things correctly or incorrectly".