Graham Westley: Peterborough United suffering FA Cup hangover
Last updated on .From the section Peterborough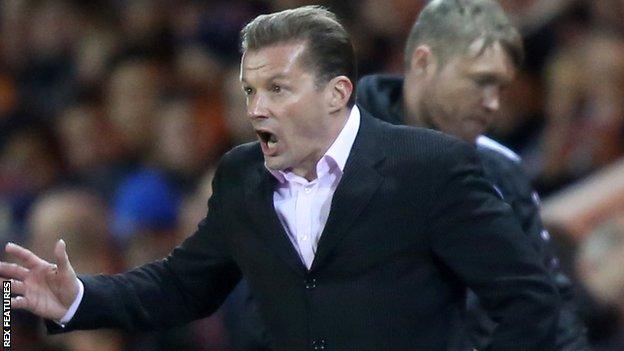 Peterborough United are still suffering from their FA Cup penalty shootout loss to West Bromwich Albion, according to manager Graham Westley.
"They're falling short of the standards that they're capable of, and they have done since the FA Cup tie.
"I've got to believe that there's some sort of hangover going on," Westley told BBC Radio Cambridgeshire.
"A young group of lads have built themselves up almost into a frenzy to go and play and win a massive game in their minds, they've got so close, they've given so much, perhaps physically and mentally it drained them."
Tuesday's defeat kept Peterborough 12th in League One, eight points off the play-off places.
"I've tried to deal with it game-by-game through selection and through talking to them as people, but we haven't snapped ourselves out of this apparent malaise," added 47-year-old Westley.
"On a motivational level we're not tracking back runners, we're not showing enough discipline to play the way we're coaching them to play, we're not showing enough belief in our game, we're slow, we're lacking urgency, there are so many things missing,
"But I don't think they're bad people, I don't think they're downing tools and not producing the goods because they can't be bothered, I just think they've lost their way."