Davie Cooper: 'If you wanted a rest, you'd give the ball to Davie'
Last updated on .From the section Football
Former Rangers and Motherwell winger Davie Cooper would have celebrated his 60th birthday on Thursday.
Cooper, who died of a brain haemorrhage in 1995 aged 39, is widely considered one of the most talented Scottish players of all time.
Former team-mates have been sharing memories of the great man for BBC Sportsound's 'Team-mates' series, the latest of which you can hear on Thursday, 25 February at 18:30 on BBC Radio Scotland.
Former Motherwell team-mate Iain Ferguson
"Davie Cooper, to me, was the catalyst to turn that Motherwell team into the [1991] Scottish Cup-winning team it became. If you couldn't play with Davie then you couldn't play.
"Davie and [midfielder] Bobby Russell had a telepathic understanding. Davie was the catalyst to making a good team that was hard to beat into a team that wasn't scared to play against anyone.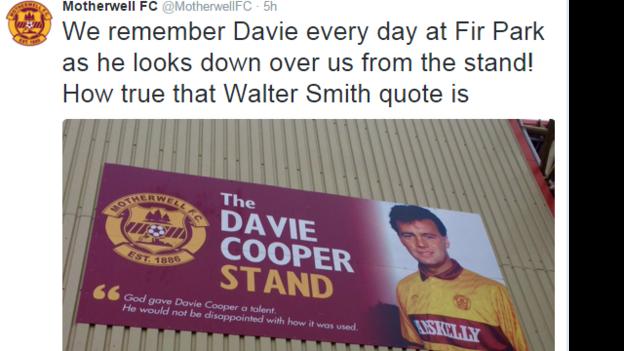 "He really came out of his shell when he joined Motherwell. He was a fantastic player for Rangers and everybody knows he's a legend.
"Going to his local club, he was brought up in Hamilton, Graeme Souness let Davie join Motherwell for not a big fee. And he blossomed; he transformed that team into a cup-winning team.
"I used to pick Coop up every morning and take him into training and became a really good friend.
"When I signed for Motherwell we socialised with my wife at the time and his girlfriend. We used to go to his favourite restaurant in Hamilton. He's a big loss."
Former Motherwell team-mate Steve Kirk
"He transformed the kids as well. Guys like Phil O'Donnell and Jamie Dolan. If you wanted a rest then you'd give the ball to Davie Cooper and he'd keep it.
"One day, we were standing in the tunnel at Parkhead and wee [Motherwell manager] Tommy McLean walked down the front of the queue, passed Coop and said: 'Listen, it'll be hard out there and you'll get tired. But if you're struggling, give it to him and he'll give it back to you when he's finished with it'.
"[Celtic midfielder] Peter Grant went mental and they proceeded to try to kick him off the park. The game finished 1-0 that day; I scored a header at the back post.
"Davie picked the ball up with three players around him. He kept it all the way in front of 'The Jungle' and he looked up and clipped it to the back post.
"I was there and managed to get it in the net, in the last five minutes of the game. He was a fantastic player and a good friend of mine. He's sadly missed."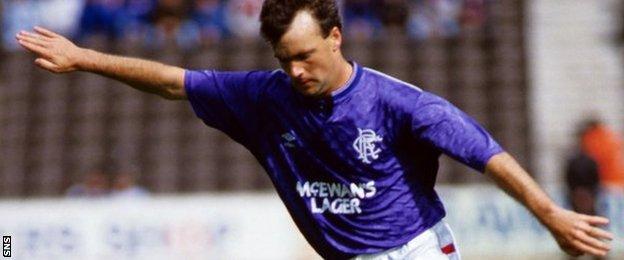 Former Rangers team-mate Derek Johnstone (speaking in 2005)
"He was sensational. I scored in the region of 230 goals and I think the majority came from him.
"For me, he was up there with Jimmy Johnstone, Willie Henderson, Denis Law and Jim Baxter.
"The ability was there. He could beat people and put in tremendous crosses without even looking up.
"But he could score goals as well - he scored some wonderful goals."
You can hear more from Iain Ferguson and Steve Kirk on BBC Sportsound's Team-mates series on Thursday 25 February at 18:30 on BBC Radio Scotland 810 MW, digital and online.