Ollie Watkins: Exeter forward's progress impresses boss Paul Tisdale
By Brent Pilnick
BBC Sport
Last updated on .From the section Football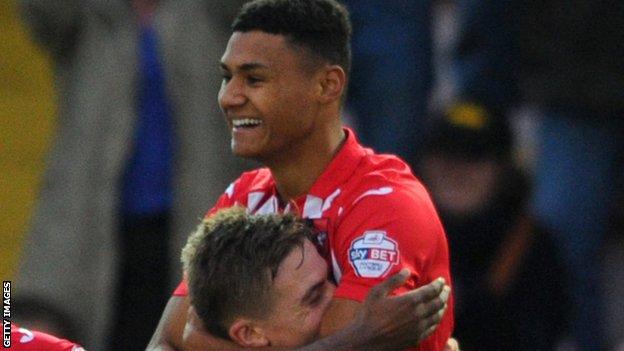 Exeter City manager Paul Tisdale says he is impressed with the progress striker Ollie Watkins is making.
"Ollie's done very well so far, we're not going to get a last-minute goal in every game and I'm sure he won't play every single game," Tisdale said.
"But he's making more and more inroads into the first team and at some point he will start to establish himself."
Watkins' strike against Pompey was his first league goal, and just his third for the first team.
"The talent and the potential you can see. But it's one thing having the physical and technical ability to play the part, but the bigger determining factor would be socially - how you make that step, emotionally how you deal with the new challenge," Tisdale told BBC Sport.
"Ollie's now been in the professional ranks for a couple of years and his ability will develop and his performances will develop, but the biggest thing has been his competitiveness and his influence on the games.
"We've played him in the thick of the action, I haven't put him out on the wing and kept him out of the intensity of the game, I've put him into the middle of things and it seems to suit him.
"He's been asked to be competitive and over the last six months that has been more apparent with his game which means he's now becoming more selectable."