Garth Crooks' team of the week: Mahrez, Payet, Kane, Daniels

By Garth Crooks
Football analyst
Last updated on .From the section Football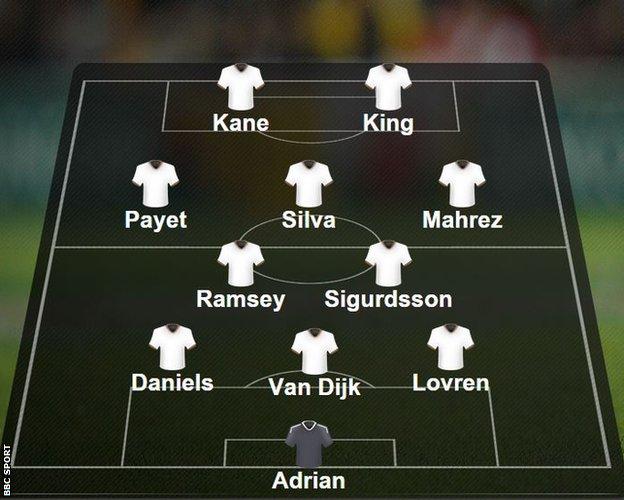 Leicester moved a step closer to a fairytale title triumph with a gutsy win over Watford, while Spurs and Arsenal both lost ground after a draw.
West Ham came back to beat Everton in a thriller, while Liverpool beat Palace and Swansea deepened Norwich's woes.
But who were the outstanding performers? Here are my selections...
Goalkeeper - Adrian (West Ham)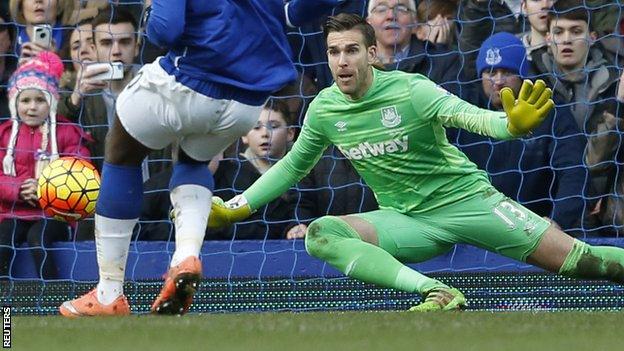 I don't know how West Ham won this game. The Hammers were 2-0 down when Everton were awarded a penalty and that's when the game took a major twist. Romelu Lukaku, who was the man of the match at this point, fails to convert the spot-kick and suddenly Adrian's save galvanises the Hammers into one of the best away performances of the season. To be fair, Everton threw everything at West Ham but it took an inspired performance from Adrian to stop Ross Barkley adding to Everton's tally and Lukaku getting his hat-trick in open play. How Roberto Martinez has the bare-faced cheek to try and blame referee Anthony Taylor for either of Kevin Mirallas' yellow cards beggars belief. Mirallas tried to con the referee by diving in the first instance and then was so reckless in the challenge on Aaron Cresswell he left the official with no choice but to send him off.
Defender - Dejan Lovren (Liverpool)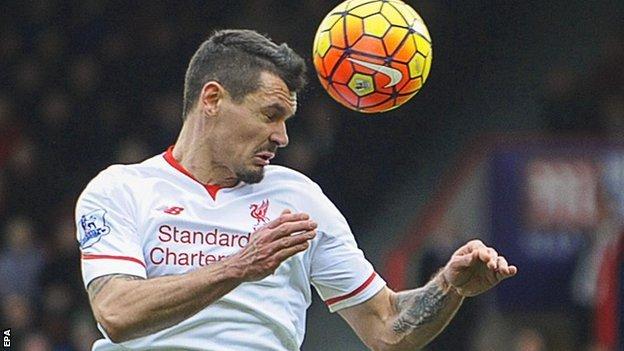 It has taken quite some time for Dejan Lovren to come to terms with the demands placed on him by Liverpool since his arrival from Southampton. His performance in Liverpool's 2-1 win against Crystal Palace - particularly with the Reds having gone down to 10 men - was exceptional. Just why it's taken Lovren so long to settle in at Anfield isn't clear but he looks like he's finally starting to come to terms with the expectation. However, I had a big problem with referee Andre Marriner's decision to award Christian Benteke a penalty when Marriner looked unsure. I have no problem with the referee's opinion, I just think we are all entitled for the referee to be sure.
Analysis: Is Klopp a genius, or did he just get lucky?
Defender - Virgil van Dijk (Southampton)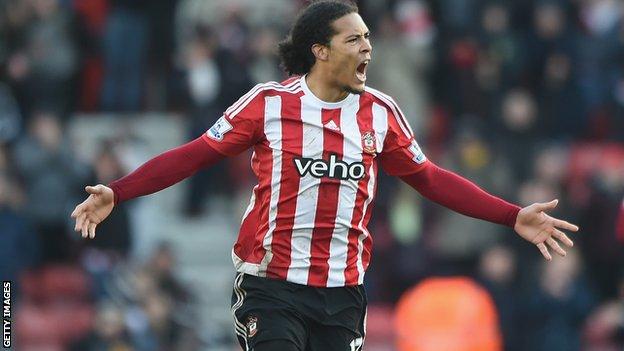 It doesn't matter how good a gambler you are, there comes a time when your luck runs out. Yet it was Southampton who rode their luck having had Jose Fonte sent off for a rugby tackle on Fabio Borini. The Saints should have been duly punished by a Sunderland side who seemed to have the bit between their teeth. To my amazement, not only did Sunderland fail to capitalise on what should have been a Jermain Defoe winner, they handed Southampton a point when they should have taken all three. The finish by Virgil van Dijk was the sort of goal a striker would have been proud of, never mind a centre-back. The ball flew past Mannone and hit the back of the net like a rocket. Sunderland manager Sam Allardyce played a blinder; it's a pity his defenders couldn't follow suit.
Defender - Charlie Daniels (Bournemouth)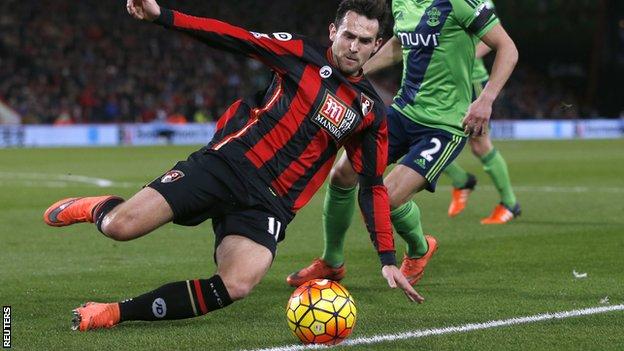 I've always admired full-backs who have the courage and composure to take players on and go for goal given the opportunity. Charlie Daniels is proving to be one of those defenders. He reminds me of former Everton and England left-back Keith Newton, who was also tall and elegant in his game, and seemed to get better with every match. Daniels' finish against a desperate-looking Newcastle was his third goal of the season but his first in open play. However, I'm convinced it will not be his last. Meanwhile, the Newcastle players insist they are behind the manager, but they certainly didn't play like it. I've spoken to many in the professional game who say Steve McClaren is an excellent coach, but right now he needs to be a better manager.
Midfielder - Gylfi Sigurdsson (Swansea)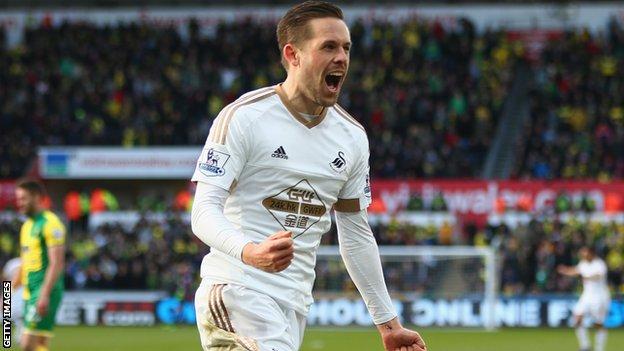 What a lovely goal it was by GylfiSigurdsson. To add insult to injury, it was former Norwich favourite Leroy Fer who provided the killer pass for Sigurdsson to score and put the Canaries deeper in trouble. Swansea should have had a penalty when Timm Klose brought down Andre Ayew but it didn't matter in the end. Alex Neil's problem is his team cannot score goals and that was no better demonstrated than when Nathan Redmond missed a glorious chance to equalise in the dying minutes of the match. It seems the same old story with Norwich, I'm afraid: great club, great support, but the players simply aren't good enough for this division.
Midfielder - Aaron Ramsey (Arsenal)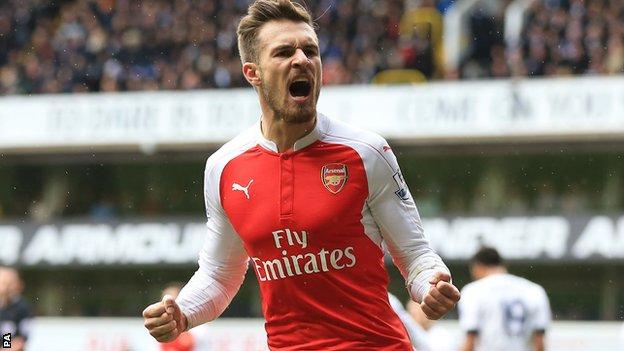 There is no doubt about it: Arsenal do have the talent in their team to win the league. The form of Aaron Ramsey, Alexis Sanchez and Mesut Ozil has been spasmodic this season, but any one of them can come to Arsenal's rescue when required. Down to 10 men, they all had to dig deep in order to get something against Tottenham, but in the end it took a desperate tackle by Kevin Wimmer to stop Arsenal from taking all three points. Now that would have been embarrassing for Spurs.
Midfielder - Riyad Mahrez (Leicester)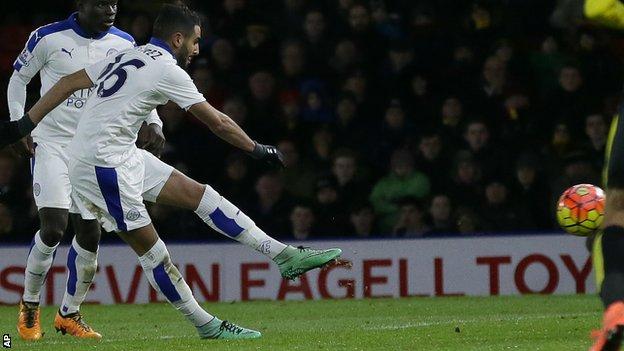 Riyad Mahrez has got to be worth £20m of anyone's money. He scored a superb goal and his performance was instrumental in dismantling a dangerous Watford side and putting the Foxes five points clear at the top of the Premier League. Who would have thought it? Whatever the outcome of the title race, Leicester are virtually guaranteed a place in next year's Champions League. While we mull over that, the question I would like to pose is this: can Leicester hang onto the Algerian? His form has been so impressive he must be a major contender for the PFA Player of the Season award.
Midfielder - David Silva (Manchester City)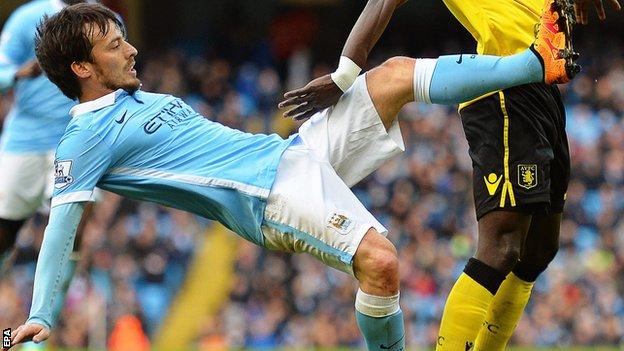 When David Silva turns up for work he's like John Curry on ice - beautiful to watch. The only problem has been he's not turned up very often this season. This was a game where Manchester City never got out of third gear against a doomed Aston Villa. Silva had the time and space to do what he wanted against a side already re-routing their sat nav to places like Reading and Preston in readiness for next season. The problem I have with City is that they are clearly the best side in the Premier League but they seem perfectly at ease with sacrificing the title for a shot at the Champions League. Someone needs to tell Manuel Pellegrini in his farewell season that City are the fourth-best team in the Champions League behind Barcelona, Real Madrid and Bayern Munich, and there is far less chance of winning that competition than the Premier League. Next year under Pep Guardiola might be a different proposition entirely, but I suspect Silva, Yaya Toure and a host of others with not be there. Perhaps that is focusing their minds.
Midfielder - Dimitri Payet (West Ham)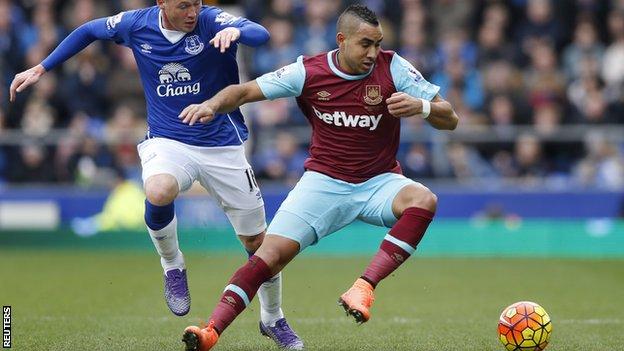 All of West Ham's fortunes changed within a period of 15 minutes in one of the comebacks of the season. At 2-1 down, the game still looked out of West Ham's reach until Payet delivered a superb cross for Diafra Sakho to finish with a glorious header to make it 2-2. Even then I couldn't see the Hammers winning this fixture, but when you have a player in your side with the ability and composure of Payet anything is possible. His winner was a devastating blow to Everton, who at 2-0 looked unassailable. However, they only had themselves to blame. If you're having to score three goals at home to get a point, I'm not sure you're in the right league.
Forward - Joshua King (Bournemouth)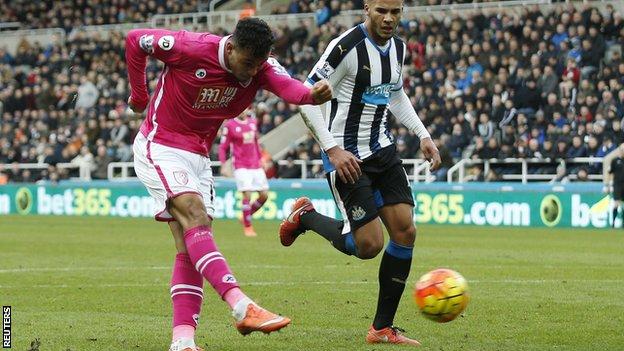 Joshua King needed some assistance from Newcastle's Steven Taylor to create the opening for Bournemouth's first goal, but the Cherries' second goal was all his own work. When I interviewed Bournemouth manager Eddie Howe at the beginning of the season, I practically scoffed at his insistence that he would continue to play open, attractive football against the top teams. Well, he's not only done that, he's produced players like King who look extremely comfortable in the big league. King and his Bournemouth team-mates destroyed Newcastle at St James' Park and left the Magpies struggling for survival and owner Mike Ashley with a dilemma over what to do with manager Steve McClaren. I have a humble suggestion: hire David Moyes. That way they might stay in the division.
Forward - Harry Kane (Tottenham)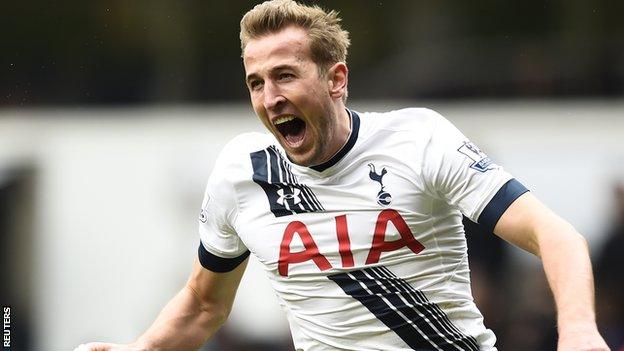 I've said it before and I'll say it again: Spurs cannot win the Premier League title. What they can do is produce moments of magic like the goal scored by Harry Kane that should have won the game and proved that they are capable of winning the matches that matter. What really disappoints me is the form of Hugo Lloris, who appears to freeze in the big games. It's happened three times this season against Arsenal away, West Ham in midweek and again against the Gunners at White Hart Lane. If you are going to win titles, you need players who play their best football in the biggest games and don't suffer from moments of stage-fright. It's just as well Spurs have Kane but he can't win the Premier league title on his own.