Casey Stoney: England defender on Messi, Ronaldo and Arsenal
Last updated on .From the section Women's Football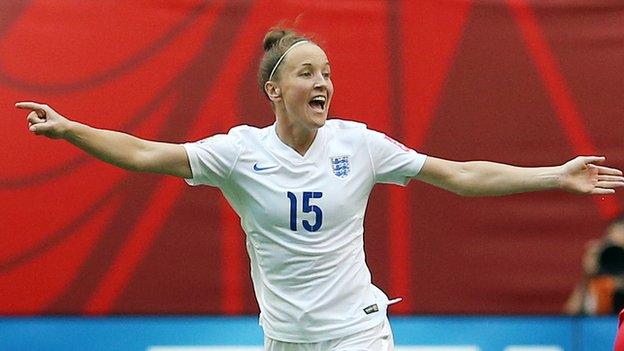 England defender Casey Stoney marked International Women's Day by holding a Twitter Q&A with supporters via #bbcsportsday.
Arsenal defender Stoney, capped more than 100 times by her country, is currently playing for England in the SheBelieves Cup in the United States.
Mark Sampson's side have lost their opening two games in the tournament to Germany and the host nation.
England play their final group game against France on Wednesday (22:00 GMT).
The match will be live on the BBC Red Button and BBC Sport website, with coverage starting at 21:50 GMT.
The US and Germany meet after the England game to determine who will win the tournament.
Inspiration, top strikers and the treble
Emma: As it's international women's day, which females inspire you?
Casey Stoney: The strong women in my life, my mum, my partner Megan and my little girl, Tilly.
Sulaiman Ritchie: With the new signings adding to the team are you as confident as I that you can win the treble this year?
CS: Treble, wow, no pressure there! I'm really confident going into this season. We've got a fantastic squad which will be very competitive. Other teams have made great additions too though so it's going to be a fantastic year for women's football.
Ceri: Who is the best striker you have played against and why?
CS: We've got amazing great strikers in the England squad but I'd have to say over the year, probably the best was player was Germany's Brigit Prinz. She was an absolute machine.

Ceri: What do you think of the new Arsenal ladies hub that was opened today?
CS: Fantastic! It'll make a real improvement to our day-to-day lives as it's such a professional environment. We now have our own home and it'll just makes our lives a lot easier.
Mark Sims: What would be your favourite match you ever played in?
CS: It has to be at the London 2012 Olympics when we played Brazil at Wembley. It was the proudest moment of my career to lead my team out at the home of English football. I never, ever dreamt that would happen!
Richard Tugwell: What do you feel it will take to close the gender gap in football?
CS: We need more women in board rooms and decision-making positions. We also need clubs to do more in terms of marketing and the commercial side of things to get bums on seats at the grounds. And we need to have continued success at international level because we saw what happened after we won the bronze medal at the World Cup.
Messi, Ronaldo and Bobby Moore
Kayleigh: Who would make your five-a-side team? (One male and one female team!) Thanks for all you do!
CS: In the women's team, alongside me I'd have Pauline Cope in goal, Kelly Smith, Fara Williams and Karen Carney. For the men's team I'd have David Seaman, Paolo Maldini, Bobby Moore, Lionel Messi and Cristiano Ronaldo - be interesting to see if those two could play on the same team together.

Five things about football: What are five changes you would like to see made to women's football?
Better standard of refereeing

The best coaches

Encouragement from schools for girls to play football

More females in decision-making positions

More media coverage
Fred Thurbin: Considering how well our international team is doing how come our club sides struggle so much in Europe?
CS: Our WSL season isn't formatted for us to be successful in Europe so we're out of sync with the other countries. The other teams are still playing week in, week out when we're in the off the season.
Ian Wright and Thai food
MazLeedsLadies: Casey, who was your hero/heroine growing up?
CS: There wasn't a lot of women's sport on TV when I was growing up so didn't really have a female heroine growing up, part from my mum! Ian Wright was someone I admired, he always made playing football look fun.
John Hayhurst: Casey, Who has been the biggest influence on your career?
CS: Keith Boanas, my coach at Charlton. He's still a mentor even now and is like a father figure to me. He believed in me when I didn't even believe in myself, he's the reason I kept going.
MK: What is your favourite thing about playing football? Who is the best player you've ever played with and best player you've played against??
CS: No matter what's going on in life, I can emerge myself into a game and I love it. Outside of my family, it's the love of my life.
Helen Charlesworth: Best advice for 15 yr girl (16 next wk!) who wants to be professional player? Currently at Gillingham centre of excellence.
CS: You have to love what you do because it's really, really hard work to get to top and it's even harder to stay there. It sounds like a cliche but there are no shorts cuts. You have to be very dedicated and challenge yourself everyday to be better.
Becky White: What are you most looking forward to with the new season? Also any chance I could get your England top?

CS: I may run a competition for my England top so keep your eyes peeled! To be honest I'm just looking forward to playing again after such a long break.
Kenny Gooner: What's your best moment as an Arsenal player? What's your favourite food?
CS: I love Thai food. My favourite moment at Arsenal has to be winning the FA Cup in 2014.
Michael Carroll: Who has been the best manager you have played under in your career & why?
Keith Boanas at Charlton, without a doubt. He cared about me as a person, ahead of being a player and so he always got the best out of me.
Connie Bostock: Did anyone tell you that you couldn't play and if so what was your response?
CS: I was told this constantly when I was a little girl. We were told we didn't play football so my response was to role my sleeves up and prove them wrong. And I'm very pleased i did!