Scottish football: SFA in talks to bring back out-of-competition drug tests
By Alasdair Lamont
BBC Scotland
Last updated on .From the section Scottish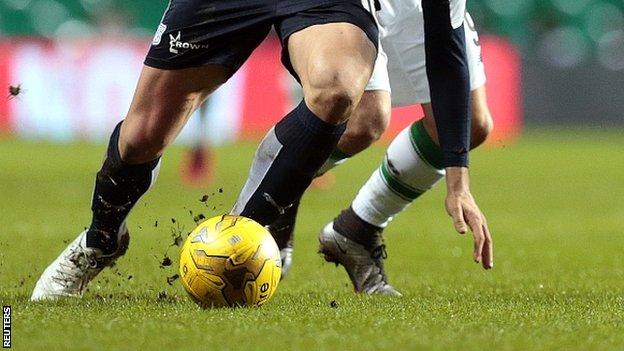 The Scottish Football Association says it is discussing reintroducing out-of-competition dope testing with UK Anti-Doping.
The SFA is also open to providing UKAD with funding for additional testing after a reduction in UKAD's budget and a drop in tests in Scottish football.
BBC Scotland revealed that only eight tests took place in the last nine months for which records are available.
No out-of-competition tests have taken place in three years.
Dr Paul Dimeo, an expert in doping policy in sport, told BBC Scotland the current approach could create a problem within Scottish football.
"If there's no out-of-competition testing that potentially leaves a large gap in which any individual who might want to take a substance, knowingly or unknowingly from the list of banned substances, is almost free to do so as long as they can ensure they're not going to be tested," said Dimeo, a senior lecturer in sport policy at the University of Stirling.
"There isn't really a deterrent to that sort of behaviour or approach. There's been minimal in-competition testing, but it doesn't seem like enough to provide any sense of deterrence either.
"If there's no testing, people will come to believe they don't really have to think about anti-doping regulations and there's lots of different ways in which that creates risk for individual players and for the sport as a whole.
"It can eventually evolve that doping behaviours can occur because people will eventually think if there's no deterrence, why should they not dope.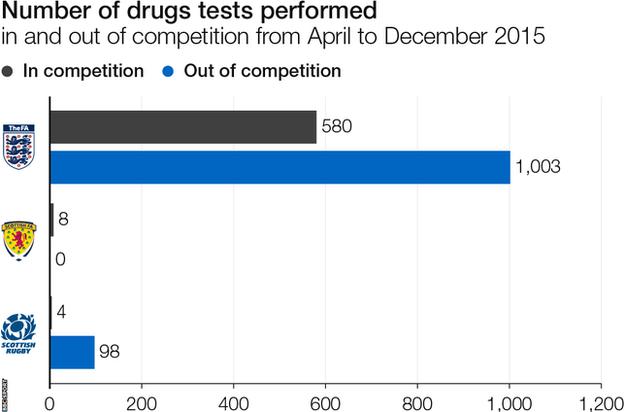 "People might also say football's a team sport and doesn't depend upon a small advantage created by a performance-enhancing drug.
"But football's about athleticism, physical capacity and endurance so the potential for misuse of drugs is there."
Asked by BBC Scotland whether the SFA deemed the lack of out-of-competition testing acceptable, a spokesman said: "We are discussing with UKAD whether there should be out-of-competition testing."
In response to a question about why the SFA did not supplement UKAD's programme by providing additional funding to increase the number of tests, the spokesman added: "We have discussed the possibility of UKAD extending their provision in Scottish football, while acknowledging any expansion of the programme by UKAD would have financial implications for the game.
"We remain in constant dialogue with UKAD and the intelligence-led system has already proven to be robust. We remain open to extending that provision in light of cuts to UKAD funding.
"It (the amount of tests) is based on the intelligence that you have in relation to the risk in a particular sport so, there is no right number other than the number that ties in with the intelligence."
The SFA also says it "would anticipate more tests at the end of the season as the competitions reach their climax", adding that in terms of educating players "we have provided education to clubs through their medical staff ... and plans are already under way to educate players directly during the course of 2016".