Phil Parkinson: Bradford City players must have right 'ethos' for club
Last updated on .From the section Football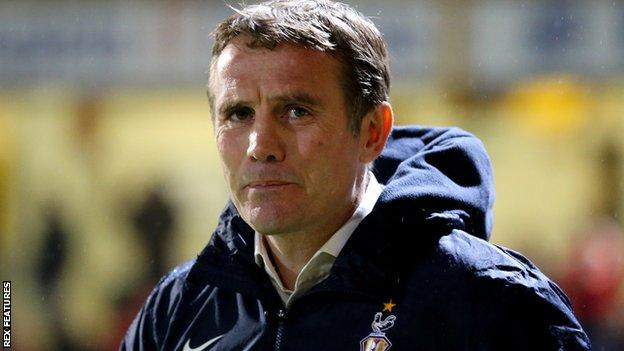 Phil Parkinson says players must have the right character to play for promotion-chasing Bradford City.
City are currently seventh in League One, with only goal difference keeping them out of the final play-off position.
"It's important you have the core players who are at the club for the right reason," he told BBC Radio Leeds.
"We want players who want to grow and progress with the club and give the club everything."
Parkinson continued: "I do feel we have a good core players who really have the club's best interests at heart all the time and 95% of the time I think that shows on the pitch."
The Bradford City way
Parkinson joined Bradford City in 2011 and steered them from the relegation zone to 18th in League Two, and the following season led them to the League Cup final.
Under him, Bradford have been promoted to League One and have won cup clashes with Premier League sides Chelsea and Arsenal.
"What's important is that the players who come in believe they have a chance and that there is a pathway into the first team," Parkinson said.
"If it was my son and he got the chance to go to Manchester City or Bradford City, it would be Bradford City all day. The pathways at the Premier League clubs are so difficult and players can get lost in the system.
"As a parent, it might be great to tell all your friends that your son is at a Premier League club but the reality is you have a far better chance at a club like Bradford City."
Promotion possibilities
Bradford are now chasing promotion to the Championship after three years in League One.
They have lost just one of their last seven league fixtures and Parkinson is confident of securing promotion.
"This stage of the season, the good managers, coaches and players really produce their best," he added.
"We will give it absolutely everything we've got to make it a memorable season."