Arsene Wenger: Fans' criticism of boss hurts club legend Ian Wright
Last updated on .From the section Football
Arsenal legend Ian Wright says "it is tearing him apart" to see Arsene Wenger come under fire from Gunners fans.
Wenger faces increasing criticism from some supporters angry with the club's poor form, with one banner urging him to end his 19-year reign as manager.
The London club have slipped to third in the Premier League table and exited the FA Cup at the weekend.
Wright told BBC Radio 5 live that he found it "very uncomfortable" to see Wenger being treated the way he is.
"It is tearing me apart because I played for him and have a lot of respect for him," said Wright. "He gave me extra years on my career."
Arsenal's season looked very healthy just a few weeks ago.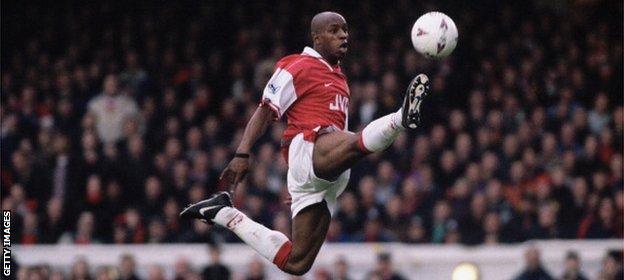 They were top of the Premier League on 4 January and fighting for silverware in two cup competitions.
But they have won only two of their past nine league games and now lie third in the table, eight points behind leaders Leicester City and six behind north London rivals Tottenham.
The Gunners also appear to be heading out of the Champions League.
They were beaten 2-0 at home by Barcelona in the first leg of their last-16 tie and travel to the Nou Camp on Wednesday.
Wright spent seven seasons at Arsenal between 1991 and 1998, scoring 185 goals, winning both domestic cups and helping them win a league title as well as the European Cup Winners' Cup.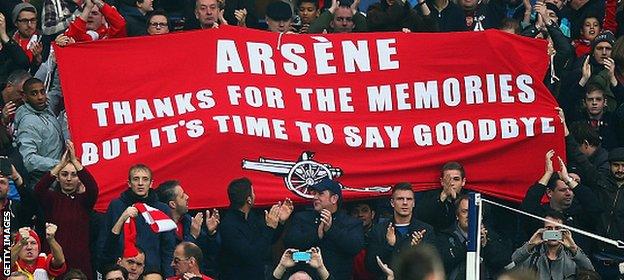 He said "a lot of questions have to be asked" of the current players, adding that they were not doing enough for Wenger.
Wright said Wenger had made them into "massive, rich men" and they had "not achieved what they should have achieved".
Following Sunday's 2-1 FA Cup defeat at home to Watford, Wenger said the continuing debate over his future at the club "is becoming a farce".
He added: "What is going on at the moment is very, very difficult to take for the players, but judge us at the end of the season.
"We have come to the end of a very, very long run in the FA Cup, so it is very sad, but we want now to focus on the next game."
Frenchman Wenger, 66, added: "Arsenal has lost games before in history and we will lose again in the future.
"We will stick together and cope with it and prepare for the next one with complete belief."
He also insisted: "Supporters stand behind the club and we want to fight until the end of the season for every single game."
Analysis
BBC Sport chief football writer Phil McNulty:
"Wenger has used the FA Cup as a safety net for the past two seasons. Now he cannot rely on the famous old competition to protect him - or his failure to win the Premier League since 2003-04."