Dino Maamria: Southport boss leaves club for 'family and travel reasons'
Last updated on .From the section Football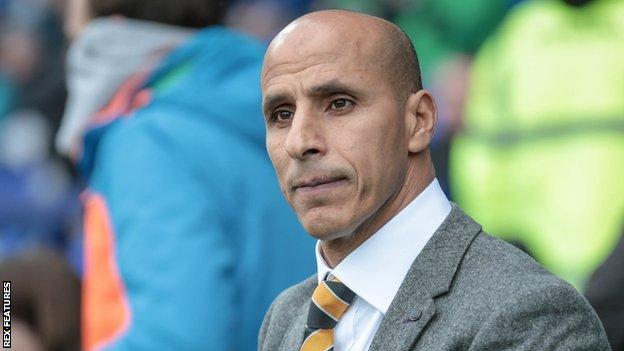 Southport boss Dino Maamria has stepped down as manager of the National League club for "family and travel reasons".
The Sandgrounders are without a win in their last five home games and let a 3-0 lead slip in Saturday's 3-3 draw with struggling Welling United.
They are 17th in the table, but eight points above the relegation zone with eight games left to play.
In his final interview prior to his departure, Maamria said his side needed to lose their uncertainty if they were to improve their inconsistent league form.
"For some reason the team at home are very hesitant and I've got to find out why," he told BBC Radio Merseyside.
"That's been happening before my time here and we need to get to the bottom of it to give the players confidence."
After winning four consecutive home matches following his appointment in November, Southport are yet to win at Haig Avenue since the beginning of January.
"Ranting is going to get you nowhere because these are the players I inherited and I've got to work with them at least until the end of the season," Maamria added.
"From day one I said I don't really get sucked into the table too much because you end up losing focus on the next game."