Southampton win appeal against Sadio Mane red card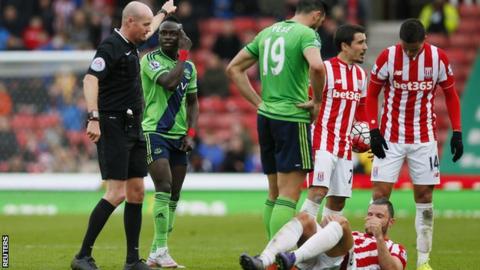 Southampton forward Sadio Mane's red card against Stoke has been overturned following an appeal.
A Football Association commission ruled the player should not have been sent off during Saturday's 2-1 victory.
Referee Lee Mason dismissed the forward in added time following an aerial challenge with Erik Pieters.
"The red card is a big mistake of the referee or maybe of the fourth referee or maybe the linesman," said Saints boss Ronald Koeman after the match.
"Sadio is trying to put his head to the ball. Even Pieters told me afterwards there was nothing," he added.
Stoke boss Mark Hughes said he was "as surprised as anybody" at the dismissal.
"I don't think that he has caught him. I think he has challenged for the ball. He hasn't thrown an arm or anything," said Hughes.
Mane will not now have to serve any suspension.