Leicester City: Will Kate Diamond's marriage survive title win?
Last updated on .From the section Football
There are thousands and thousands of very happy Leicester City fans right now. Just look at their happy little faces as they sit on top of the Premier League, five points clear of Spurs.
But Kate Diamond's former Leicester season-ticket holder husband James is probably slightly bitter.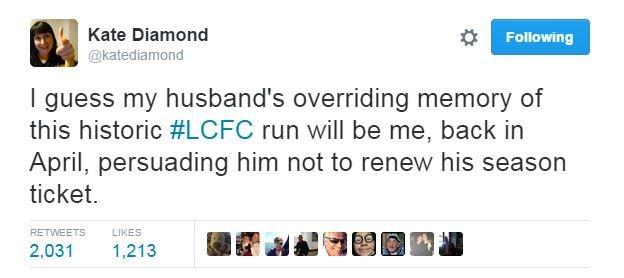 You can see Kate's thinking. Granted, when she offered her advice, Leicester were on the way to completing a miraculous escape from relegation, but even if they did survive, the Foxes were surely set for another season of struggle in the world's richest football league.
Football can be a painful business for the long-suffering supporters of smaller clubs and after all, Kate only wanted the best for her husband.
Poor Kate. Hindsight is a wonderful thing. Fortunately, BBC Sport is more forgiving than many on social media, who suggested her actions may be grounds for divorce.
Listen to In Short: I made my husband ditch his Leicester season ticket

In a follow-up article for the Leicester Mercury, where Kate is a columnist, she said James was "still enjoying the season, albeit from the sofa".
"Perhaps I was the only one who didn't realise, back in April, that 2015-16 would be the finest in City's history," wrote Kate. "I tend to doubt it, but still.
"I'm gutted that my husband won't be at the game when Leicester win the Premier League this season. But that's marriage for you, I guess. Or marriage to me, at least."
And James told BBC Radio 5 live it had become "the elephant in the room", saying: "Every time we've sat and watched the game and seen another Leicester City win, there's been this unspoken 'I would have been there'."
Will Leicester win the Premier League title? Will Kate's husband forgive her? Stay tuned in the next eight matches to find out the answer to at least one of these cliffhangers.