Leslie Sedibe: Banned former Safa CEO protests innocence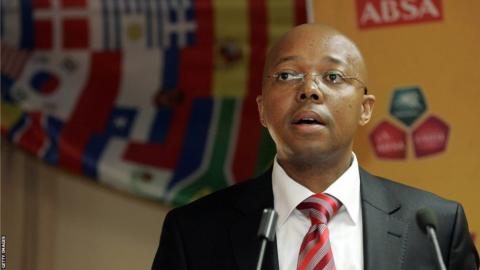 Banned former South African Football Association CEO Leslie Sedibe insists he is innocent of match-fixing.
Fifa on Monday suspended Sedibe from all football-related activities for five years after finding him guilty of infringements of its code of ethics.
"Fifa were never interested in the truth, they had to find a scapegoat - and that is me," Sedibe said.
"The (South African) police had already investigated the matter and found no evidence of match-fixing."
Fifa banned Sedibe - and two former Safa referees' chiefs, Steve Goddard and Adeel Carelse - over infringements related to the proceedings against Lindile Kika, who last October was banned from all football-related activity for six years.
Kika denied being involved in match-fixing.
Football's world governing body said Sedibe had broken general rules of conduct, loyalty and duty of disclosure. Sedibe insists he has done nothing wrong.
He said: "I was not invited to any meetings or to comment in relation to issues raised in Fifa's report that has been released. I have not even received a copy of the report even though my name is mentioned in it.
"I have continuously called for an independent inquiry that would be impartial and to be given an opportunity to respond to allegations."
"Last November I wrote a letter to the Public Protector to investigate allegations of match-fixing but that office declined.
"I have also been investigated by the The National Prosecuting Authority of South Africa where they found that there has been no evidence of match-fixing.
"This begs the question about why Safa has not declared that police had already investigated the matter and found no evidence."