Zlatan Ibrahimovic: Arsene Wenger 'surprised' to be linked with striker
Last updated on .From the section Football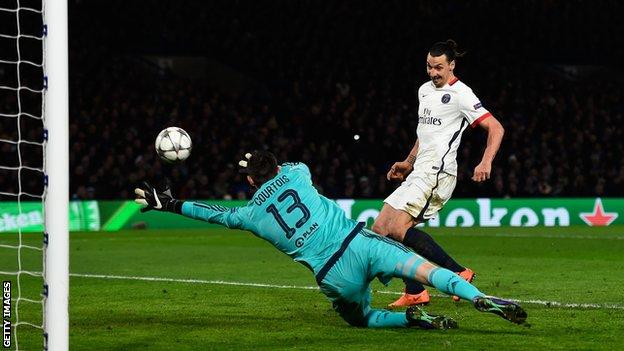 Arsenal boss Arsene Wenger says he is "surprised" the club has been linked with a summer move to sign Sweden striker Zlatan Ibrahimovic.
Ibrahimovic is a free agent at the end of the season and has announced he is likely to leave Paris St-Germain.
The 34-year-old scored four goals on Sunday as PSG beat Troyes 9-0 to win a fourth successive French league title.
"Look, at the moment, no," Wenger said when asked if he was interested in a deal for Ibrahimovic.
The Swede has also played for Barcelona, Juventus, Inter Milan, AC Milan, Ajax and Malmo in his 17-year career, winning league titles in four countries.
This season he has scored 31 goals as PSG clinched the Ligue 1 trophy with eight games to spare.
Arsenal, meanwhile, are 11 points behind Premier League leaders Leicester and face Everton on Saturday at 12:45 GMT.
Wenger said: "We have other worries at the moment. It's short-term. We are not on Zlatan's case. Even at 34, he's had a great season at PSG."
He added: "I'm just surprised by the name you've thrown at me."
In 2000, Ibrahimovic turned down a move to Arsenal, refusing to take a trial for Wenger.
"I couldn't believe it. I was like 'No way. Zlatan doesn't do auditions'," said the striker.