Damien Comolli: Ligue 1 'lacks excitement'
Last updated on .From the section European Football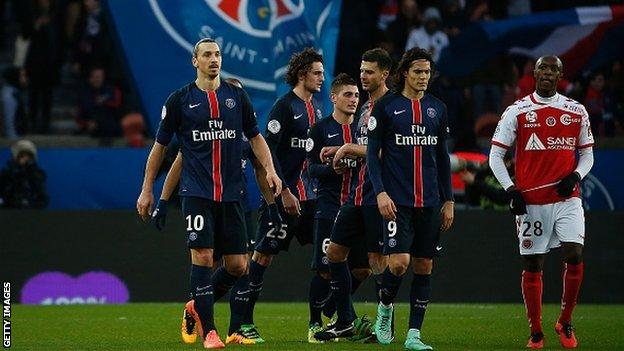 Paris St-Germain's dominance in France has made Ligue 1 too predictable, according to former Liverpool director of football Damien Comolli.
"The question we ask ourselves at the start of each season isn't 'who's going to win the league?'," Comolli told BBC World Service's World Football.
"It's 'when are PSG going to win the league?'."
PSG, who have been drawn against Manchester City in the quarter-finals of the Champions League, are 25 points clear of second-placed Monaco, who they host on Sunday.
It is their first league match since securing the domestic title with a 9-0 win at Troyes last weekend.
Frenchman Comolli, who was also director of football at Tottenham, said attendances had fallen because Ligue 1 had become too predictable.
Asked whether the French League had lost excitement, Comolli added: "Yes, it has.
"There's a bit of excitement about who is going to finish behind PSG and qualify for the Champions League.
"There's a bit of excitement near the bottom of the table as well. That's about it.
"The attendances in the French League until recently were about 300,000 down on last season.
"The neutrals are turning their backs on it and walking away from stadiums and TV as well just because there is not much to play for."
Comolli also claimed French clubs are "embarrassed" about allowing forward Riyad Mahrez and midfielder N'Golo Kante to slip their attention.
Mahrez, 25, was at Ligue 2 Le Havre before joining Leicester City in January 2014, while Kante, 24, moved to the Premier League leaders last August from Caen.
Comolli, who has also worked at Arsenal, St Etienne and Monaco, added: "I think there is a bit of embarrassment from clubs in terms of 'how did we miss them?'."