International Champions Cup: Man City and Man Utd to meet
Last updated on .From the section Football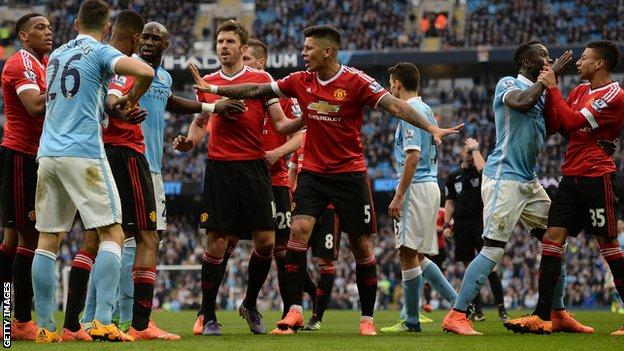 Pep Guardiola will face rivals Manchester United in one of his first games as Manchester City manager.
The two Manchester sides will meet at the Bird's Nest Stadium in Beijing on Monday, 25 July as part of the pre-season International Champions Cup.
Guardiola is replacing City boss Manuel Pellegrini in the summer.
Surprise Premier League leaders Leicester will play Barcelona and Paris St-Germain as they make their debut in the invitational tournament.
The Foxes will play Celtic in Glasgow on 23 July, PSG in Los Angeles on 30 July and Barcelona in Stockholm on 3 August.
What is the International Champions Cup?
Pre-season tournament taking place in North America, Australia, China and Europe
2016 teams include: AC Milan, Atletico Madrid, Barcelona, Bayern Munich, Celtic, Chelsea, Inter Milan, Juventus, Leicester City, Liverpool, Manchester City, Manchester United, Paris Saint-Germain, Real Madrid, Tottenham
Official website
United's pre-season tour will be much shorter than in recent years.
At manager Louis van Gaal's insistence, the club will only be spending eight days in China, and play just two games.
The first of these will be against German side Borussia Dortmund, who face Liverpool in the Europa League quarter-finals next month, in Shanghai on Friday, 22 July.
Guardiola could meet old foe Jose Mourinho, who has had talks with United about taking over from Van Gaal.
The Premier League season will start later this year - on Saturday, 13 August.