Dundee's 'bid for Stevie Mallan derogatory', says Alex Rae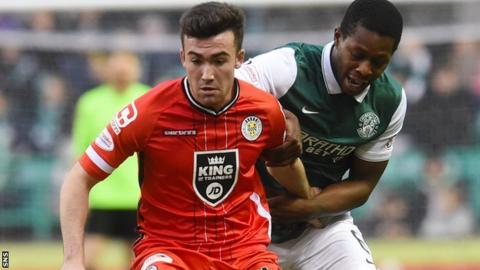 St Mirren manager Alex Rae says Dundee made a "derogatory" bid for Stevie Mallan but commended St Johnstone after their approach for Keith Watson.
"As far as I'm led to believe, it has been knocked back," Rae said of the interest in midfielder Mallan.
"We felt it was a bit derogatory from Dundee and it would take a lot more money than that."
Right-back Watson is out of contract in the summer and Rae said Saints had informed them of their interest.
"We have to commend St Johnstone," he told BBC Scotland before Saturday's 2-2 draw with Hibernian.
"They have done it in the right manner - they sent a letter in saying they wanted to discuss with Keith the possibility of joining them."
Watson, who began his career with Dundee United, joined the Buddies last summer and the 26-year-old has been a stalwart for the Scottish Championship side this season.
"I'm led to believe that Keith has spoken to them but nothing's been signed as of yet," said Rae
"So we just have to wait and see on that one."
However, Rae does not believe that further negotiations are planned with Dundee over 20-year-old Mallon, who is a product of St Mirren's youth system.
"It's just been knocked out the park really," he said of the Premiership club's bid.
"I'm led to believe it is done and dusted as far as we are concerned."