Truro City aim to move in to new ground at Silver Bow by July 2017
Last updated on .From the section Football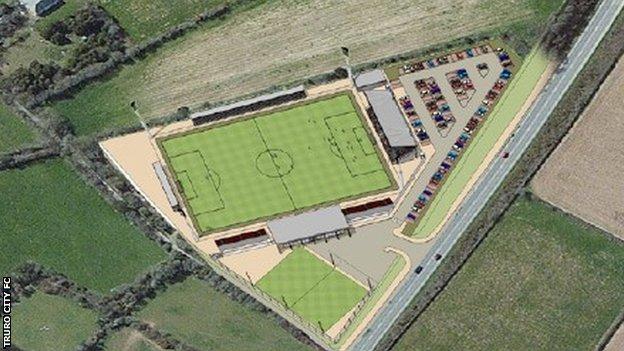 Truro City hope to have their new stadium completed by July 2017, according to chairman Peter Masters.
The new ground at Silver Bow should have been ready this summer, but delays have seen its completion date shift.
The club had agreed to share Plainmoor with Torquay United next season, but will now stay at Treyew Road for one final campaign.
"Hopefully Silver Bow will start to be built towards the end of July or start of August," Masters said.
"Then we can look for handover in July 2017, that's what's on the cards, but there are still some battles to fight, it's not over yet," he added to BBC Radio Cornwall.
"We've got specifications to sort out, we're over budget at the moment at Silver Bow, so there is a lot of talking to do."
Masters, who bought the club when it was in administration in 2012, says he will make the part-time side fully professional if they win promotion to the National League next season.
The club are currently in fourth place in National League South and on course to make the promotion play-offs.