Gabriel Agbonlahor: Aston Villa striker dropped 'to get fitter'
Last updated on .From the section Football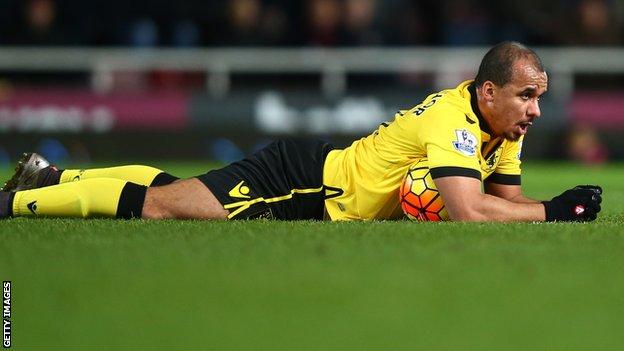 Aston Villa striker Gabriel Agbonlahor will be unavailable for two weeks as he undergoes a personal fitness programme.
The 29-year-old missed last Saturday's home defeat by Bournemouth with a virus after a club suspension had ruled him out of the previous match with Chelsea.
He was cleared after an investigation into his conduct on a recent trip to Dubai where he was pictured appearing to hold a shisha pipe.
Agbonlahor will be out for three of Villa's remaining five matches.
Caretaker manager Eric Black told BBC Sport: "We met earlier this week and agreed Gabby has to get fitter.
"'I have only been here five weeks so can't be held accountable for what's gone on with him before.
"He will work with the first-team group in fitness work and also train with the under 21s. We'll reassess his fitness in a fortnight."
Villa, 15 points from safety in the Premier League, travel to Manchester United on Saturday and will be relegated if they do not win or if Norwich take a point from Sunderland on the same day.
Agbonlahor will also be absent for the home match against Southampton and away at Watford.
He is Villa's longest-serving current player but has scored just once in 18 appearances during a turbulent campaign for the West Midlands side.