Boss Kevin Nicholson says Torquay United were unsure of safety after Bromley victory
Last updated on .From the section Football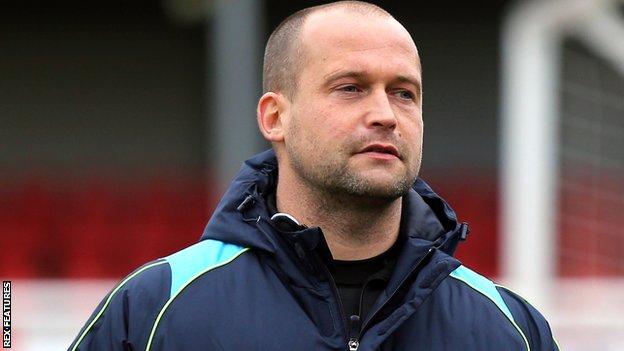 Torquay United player-manager Kevin Nicholson has admitted his side did not know they had secured National League safety until they had left the field after their win at Bromley.
They are now seven points clear of the relegation zone, having been 12 points adrift of safety in February.
"It's just unfortunate that we didn't realise coming off that we were safe," Nicholson told BBC Radio Devon.
"We thought that there was still a chance that it could all go wrong."
He added: "Otherwise I think you'd have probably found a load of the players diving into the crowds."
Since Nicholson's side fell to the bottom of the table in February, they have lost just three of 15 league games, keeping clean sheets in eight of their last 11 matches.
"Honestly I never had any doubts we'd do it, but then I didn't look at a league table for about three months at one point," he added.
"I'm just delighted and elated for everybody involved with Torquay - the players have just been magnificent, for me, for themselves, for each other.
"From now on success for this football club is promotion and league football."