Premier League top scorer: Harry Kane? Jamie Vardy? Sergio Aguero?
Last updated on .From the section Premier League3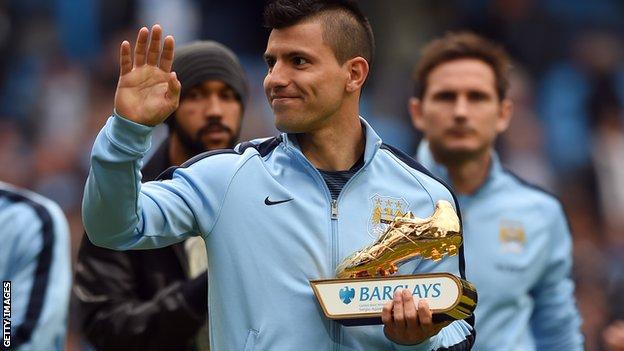 Tottenham striker Harry Kane and Leicester forward Jamie Vardy are going head-to-head for the Premier League title, the PFA Players' Player of the Year award, and quite possibly a place in the England starting line-up for Euro 2016.
Kane's two goals in Tottenham's 4-0 win at Stoke on Monday moved him ahead of Leicester's suspended talisman as the Premier League's top scorer.
Last season's winner, Manchester City's Sergio Aguero, is also in the hunt after his goal against Newcastle on Tuesday followed a hat-trick against Chelsea at the weekend.
Everton's Romelu Lukaku, meanwhile, continues to be the bright spark of a disappointing campaign for the Merseyside club.
Here are some key stats as the race to win the Golden Boot reaches its finale.
Harry Kane
Remaining opponents: West Brom (three goals in three games against them); Chelsea (two in three games); Southampton (one in three); Newcastle (one in four)
Key stat: The 22-year-old striker has played more minutes (3,008) and had the highest number of shots (109) than anyone else on the 25-strong top scorers' list.
Jamie Vardy
Remaining opponents: Swansea (no goals in three games), Manchester United (two in three), Everton (none in two), Chelsea (one in two).
Key stat: Banned for the Swansea game, Vardy could yet face a further suspension for the trip to Old Trafford. For now, he remains the Premier League player with a hand in most goals (22 scored and six assists), one ahead of team-mate Riyad Mahrez (16 goals, 11 assists).
Sergio Aguero
Remaining opponents: Stoke (five goals in five games), Southampton (two in six), Arsenal (two in seven), Swansea (two in seven).
Key stat: Aguero - not on the PFA Players' Player of the Year shortlist - scores a goal every 97 minutes he plays. His goal against Newcastle made him the second fastest player to reach 100 Premier League goals (147 matches) - behind only Alan Shearer (124) and beating Thierry Henry (160).
Romelu Lukaku
Remaining opponents: Liverpool (five goals in eight games), Bournemouth (one in one), Leicester (one in three), Sunderland (four in seven), Norwich (two in six).
Key stat: Of the top four Premier League strikers, Lukaku has played the most passes (947) and creates a chance every 57 minutes - more than his three rivals.
Best of the rest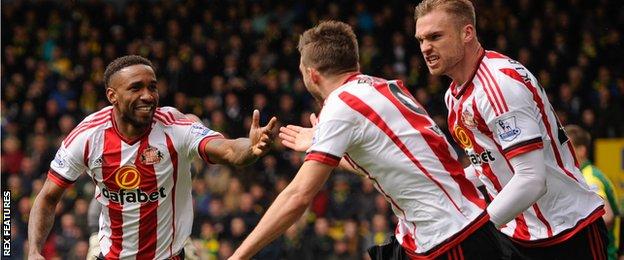 Newcastle midfielder Georginio Wijnaldum (68%) and Sunderland striker Jermain Defoe (65%) have the best shot accuracy figures.
Defoe, who has 13 Premier League goals this season, is the most efficient, with a goal every 3.53 shots, just ahead of Mahrez (3.56).
Despite being 23rd on the top-scorer list with eight Premier League goals, West Ham's Andy Carroll has the third best minutes-per-goal statistic (126), behind Aguero (97) and Kane (125).