Rochdale announce player Callum Camps has left car lights on
Last updated on .From the section Football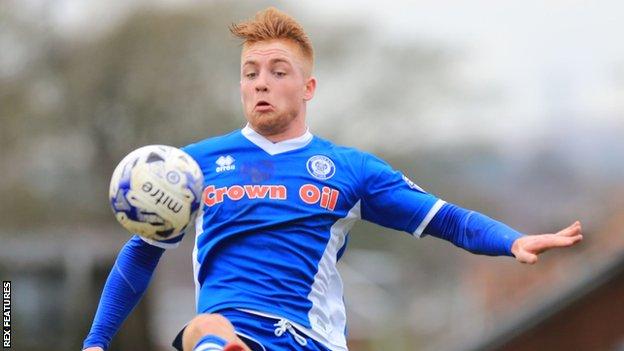 Rochdale's stadium announcer thought he was doing a fan a favour when he read out the number plate of a car with its headlights left on during Tuesday's 1-1 draw with Gillingham - little did he realise it belonged to one of the players.
The car in question belonged to Callum Camps, who was playing in Dale's midfield when the announcement was made during the first half.
If the 20-year-old was affected by the news, he did not let it show as he curled in a shot just before the break to put the home side ahead.
His goal was not enough to win the game, though, as John Egan's 77th-minute equaliser earned the visitors a point.
Camps revealed that one of the club's backroom staff came to the rescue, collecting his keys from the dressing room and switching off the lights.
"I was listening because the ball was out of play, and as soon as I heard the reg I was thinking that's my number plate," he told BBC Radio Manchester.
"I thought I'd blocked someone in, so I said to [team-mate] Jamie Allen: 'That's my car that' and he said: 'What?' I said again: 'That's my car they've just called out.'
"I looked over to [head of sports science] Kevin Gibbins and said: 'My car's just been read out, can you sort it out?'"