Conor McGregor: UFC fighter says he is 'not retired'
Last updated on .From the section Sport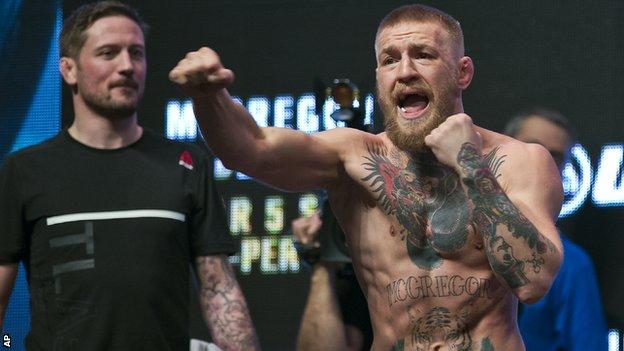 Conor McGregor says he has not retired from the Ultimate Fighting Championship - but has fallen out with the sport's bosses over promotional work.
The 27 year old triggered speculation he was quitting on Tuesday when he tweeted: "I have decided to retire young. Thanks for the cheese."
UFC president Dana White then revealed McGregor would not be fighting Nate Diaz on the UFC 200 card on 9 July.
But in a statement issued on Thursday, McGregor said: "I am not retired."
White claimed McGregor was withdrawn from the card for refusing to fly to Las Vegas for a news conference and promotional photos.
In his statement, Ireland's McGregor said he was being asked to do too much promotional work by the UFC and was not able to concentrate on his training.
"I am paid to fight. I am not yet paid to promote. I have become lost in the game of promotion and forgot about the art of fighting," he said.
"There comes a time when you need to stop handing out flyers and get back to the damn shop."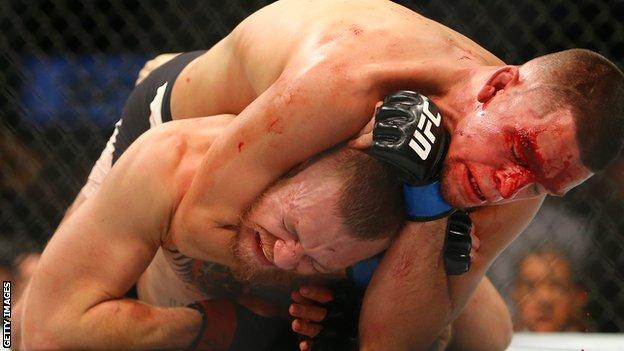 McGregor also blamed his heavy promotional workload for his loss in his last fight, when Diaz became the first man to beat him in UFC.
He said he had asked for leeway when promoting UFC 200 to "train and focus - but it was denied".
And he explained that his "retirement" tweet from earlier in the week was his way of generating promotion.
He added: "I must isolate myself now. I am facing a taller, longer and heavier man. I need to prepare correctly this time. I can not dance for you this time. It is time for the other monkeys to dance.
"I am still ready to go for UFC 200. I will offer, like I already did, to fly to New York for the big press conference that was scheduled, and then I will go back into training. With no distractions.
"If this is not enough or they feel I have not deserved to sit this promotion run out this one time, well then I don't know what to say."