Arsenal Wenger says Arsenal fans should return for 'quality football'
Last updated on .From the section Football239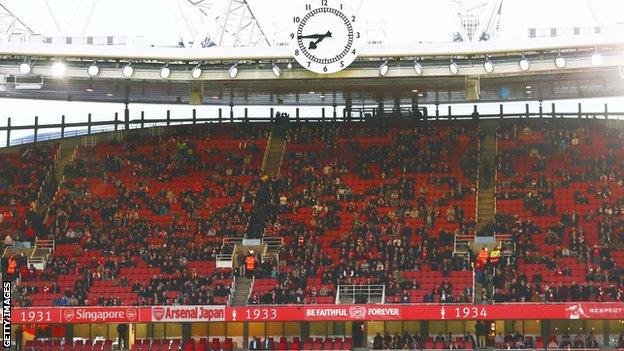 Arsene Wenger has urged Arsenal's stay-away fans to turn up and see "quality football" after his side moved third in the Premier League table with a 2-0 win over West Brom at Emirates Stadium.
An official attendance of 59,563 was given for Thursday's game, but large sections of empty seats were visible.
Asked for a message to fans, Wenger said: "Come and support the team. If you love football, you go out there and I think you see quality football."
Alexis Sanchez scored twice in the win.
Clubs usually count season ticket holders in official attendances whether they are actually present or not, and there were reports before Thursday's game that as many as 2,500 fans had returned their tickets.
Wenger said there was no way of knowing why fans did not attend, but defended his side's performance.
He said: "It was a special night as well, a Thursday night, and I don't know if you are intelligent enough, nor am I, to detect exactly why everybody that did not turn up tonight did not turn up.
"I believe we dominated from the start to the last minute and in fact, was what we did in the 1-1 draw against Crystal Palace on Sunday.
"Overall I believe the quality of our game was very good. Maybe, we could have scored more goals."