Brian Little: Jersey boss unsure on long-term involvement with island side
Last updated on .From the section Football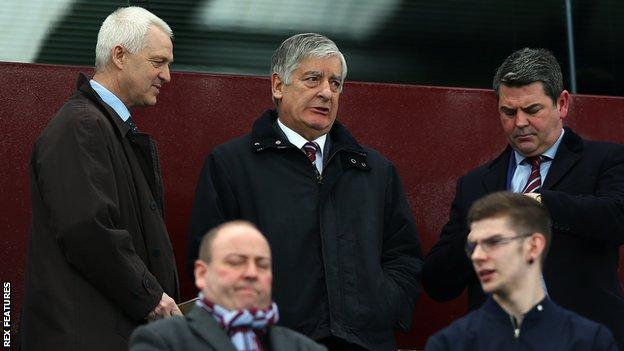 Jersey manager Brian Little says he is unsure if he will continue in the role beyond the end of the season.
The ex-Aston Villa manager is now advising the club's board of directors as it aims to recover from relegation.
Little took over Jersey in January after Jimmy Reilly's resignation, having been director of football.
"I've given as much as I can to it, it perhaps isn't enough, but I've got to weigh the pluses against the minuses," Little told BBC Radio Jersey.
"My work schedule is quite hectic, but I really appreciate the effort the players have put in here," added Little, who would not be drawn on the latest situation at Aston Villa.
He was part of a four-man football board at Villa Park, but two of those members - David Bernstein and Mervyn King - resigned last week after a disagreement with owner Randy Lerner.
Little will be in charge of the island side for the second time as they travel to Kidderminster to face a Panjab FA side.
It is part of Jersey's preparation ahead of May's Muratti Vase fixture with Guernsey.
"I've enjoyed what I've done, I fully admit that there would be a lot more that I would have to do to do it on a longer term basis, and I understand that," added Little, who is still based in the Midlands.
"The pluses are, I think, that they've enjoyed the few coaching sessions I've done and felt really good. The minuses are there's not enough of them.
"I'm at the stage of my life now where I don't need to do it for personal gain, I do it for personal satisfaction and to see satisfaction on other people's faces, so I've got to weigh that up and make sure it's right."