Matthias Sammer: Bayern Munich sporting director recovering from brain problem
Last updated on .From the section European Football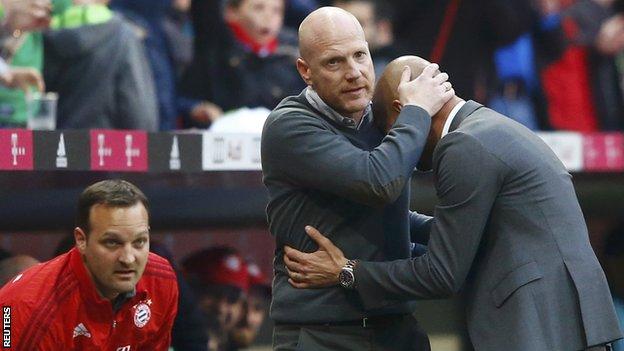 Bayern Munich sporting director Matthias Sammer is recovering well from a minor brain disorder, say the club.
The 48-year-old former Germany sweeper has not been in the dugout for their last two league games.
Club doctor Roland Schmidt revealed Sammer had a "minute circulatory disorder in the brain, which will heal completely and without consequences".
Sammer said: "I'm not constrained and the doctors have assured me I'll be completely healed and restored."
He continued: "However, I will give myself the necessary time to recover. After that I will again be available to the team and Bayern with all my energy."
Bayern, who visit Atletico Madrid in the Champions League semi-final first leg on Wednesday, will retain the German title if they beat Borussia Monchengladbach next Saturday.