Leicester: Punter loses 5p on bet on Foxes to win Premier League
Last updated on .From the section Leicester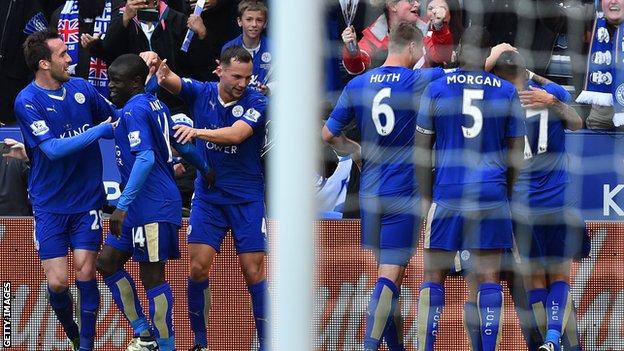 A football fan has been called the "world's most calamitous punter" - after losing 5p on a bet on the Foxes to win the Premier league.
The unnamed gambler put 50p on Claudio Ranieri's team to finish top before the season began at odds of 5,000-1.
But he cashed out after an opening-day win for 5p less than his stake and will now miss out on a £2,500 pay day.
Ladbrokes spokesman David Williams said: "It is an absolute mystery. He must be feeling pretty sick."
Leicester will win the title if they beat Manchester United on Sunday.
If they lose, they could still win the title the following night, if nearest rivals Spurs lose at Chelsea, or with a win over Everton on 7 May.
Williams added: "He must go down as the most calamitous punter in history.
"He must have thought the wheels were going to come off after the first win and decided to cut his losses."
Ladbrokes are in the process of trying to contact the man, who lives in the East Midlands, to offer him a consolation to "soften the blow".