Truro City boss Steve Tully says reaching the play-offs is a 'massive achievement'
Last updated on .From the section National League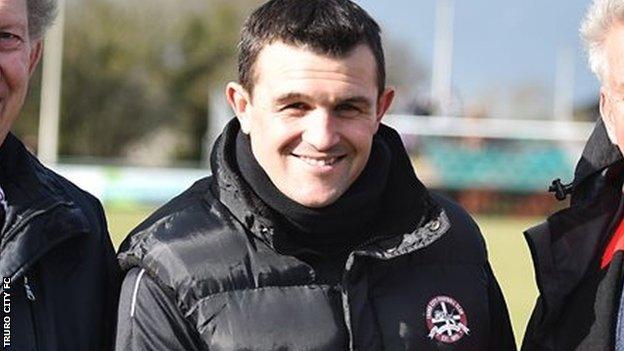 Truro City boss Steve Tully says making the National League South play-offs is a 'massive achievement' for the club.
"As the season's progressed we've got better and better," said Tully, who led Truro to victory in the Southern Premier league play-offs a year ago.
"I'm delighted for the players and the staff," he told BBC Radio Cornwall.
"It's a massive achievement, at the start of the season we were relegation favourites.
"It's been a tense three or four games to finalise our spot in there, but I'm delighted for the players and now we can look forward to it."
If Truro finish fourth they will face Maidstone United in a two-legged play-off semi-final, with Tully's men at home for the first leg on Wednesday 4 May.
Tully was part of a successful play-off campaign with Exeter City in 2008 when they won promotion back to the Football League, having lost a play-off final against Morecambe 12 months earlier.
And he believes having the second leg away from home could be advantageous for his side.
"I played quite a few play-off games with the second leg away, and I felt the pressure on the home team was immense, especially in two-legged affairs," he said.
"The first game's always tight, there's nothing really given away in the first game, whether it's a one-goal lead, there's nothing really in it.
"Whereas in the second game there's always a lot on it and I always feel there's a lot more pressure on the home team to go and win the game rather than the away teams to go and play their normal game."