Mike Ashley drops Dave King 'fit and proper person' case
Last updated on .From the section Rangers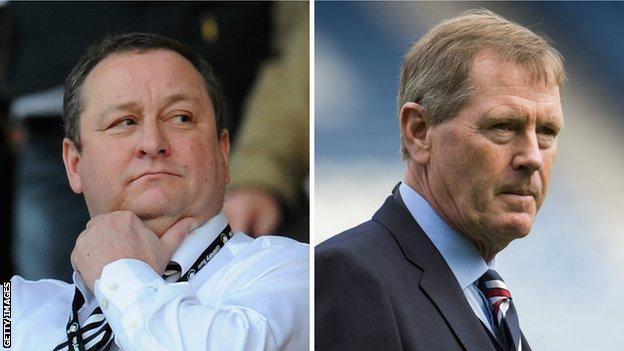 Mike Ashley has abandoned a legal bid to challenge the Scottish FA's ruling on Rangers chairman Dave King as a "fit and proper person".
The Newcastle owner's MASH Holdings Ltd was due to seek judicial review of the decision at the Court of Session.
MASH say they are dropping the action because they now have the information they asked for from King and the SFA.
A judge has yet to rule on whether MASH is liable to pay all legal costs relating to previews hearings.
King, who led a successful takeover at Rangers in March 2015, had to be ratified by the SFA due to his tax convictions in South Africa and his prior role as a director at Ibrox.
King was cleared to take up his current position last May, with Ashley, who owns an 8% stake in the Ibrox club, announcing his intention to challenge the process in November.