Ady Pennock: Forest Green Rovers sacked boss to boost play-off chances, says owner
Last updated on .From the section Football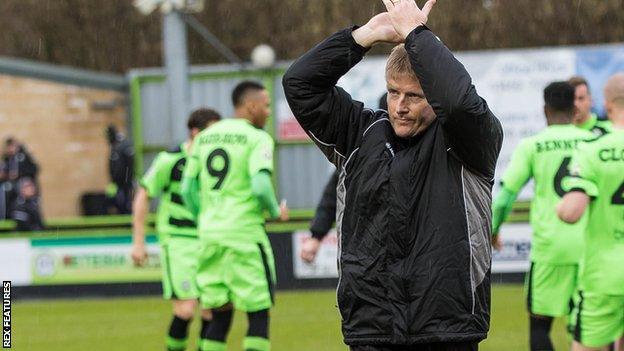 Forest Green Rovers chairman and owner Dale Vince has said former manager Ady Pennock was sacked because the team "were likely to fail in the play-offs".
Pennock, who guided the club to second in the table, was dismissed one week before the National League play-offs, after seven matches without a win.
"It was in order to give us our best possible chance in the play-offs, given our form in the last seven or eight games," Vince told BBC Points West.
"It's the opposite of a gamble."
Vince continued: "In a way, I see it as giving us a chance, because I felt we didn't really have a chance the way that we were heading into the play-offs.
"Our feeling was that we were likely to fail and our manager couldn't turn it around, wouldn't be able to.
"It was a big decision but we feel it is the right thing to do. Our form has been poor. At another part of the season it would have been different."
Caretaker manager Scott Bartlett admitted it was a "shock" to take the reigns of the Gloucestershire club "out of the blue".
"It is a unique situation that we're in," said Bartlett. "It's about asking (the players) to give us an extra 10-15% on what we've seen in the last three or four weeks. If we can get that, then we're looking in good shape."
Vince added that the club had already received expressions of interest regarding the vacant managerial post, but would not be drawn on whether or not an appointment would be made before the end of the season.
Forest Green travel to Dover on Saturday for their final game of the regular league campaign, before the first leg of the play-off semi-final on Wednesday.