Leicester City: Players will stay and club can keep them - Hartson
Last updated on .From the section Leicester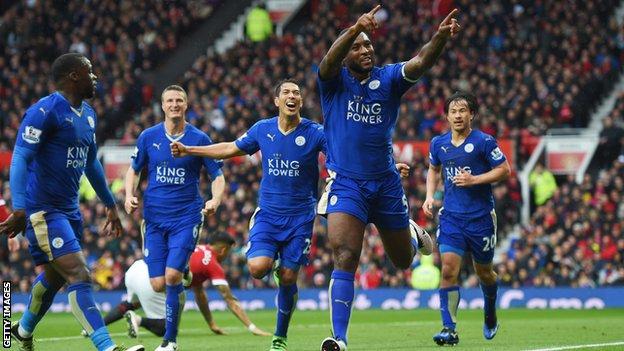 Premier League champions Leicester City will feel they can do "something special" and that means the team will stay together next season, believes former Wales striker John Hartson.
"I genuinely feel this group of players will not have any sort of plans to move on," Hartson, 41, told BBC Sport.
The Foxes, 5,000-1 outsiders, could earn £150m from winning the title.
And Hartson said the players' agents will be "having a field day" sorting out new, improved deals.
Midfielder N'Golo Kante, forward Riyad Mahrez - the Professional Footballers' Association Player of the Year - and striker Jamie Vardy, who was named the Football Writers' Footballer of the Year, have been linked with moves to Europe's biggest clubs.
"They could earn a little bit more money elsewhere, they could play in any team, but they will feel they want to do something special," continued Hartson.
Listen: Leicester assistant tells 5 live "we won't want to keep unhappy players".
"Leicester players are in a wonderful place together. They are a close knit team, adored by the city, total legends.
"The mentality of the players is they have worked so hard to get here, 'let's take on the might of Europe, let's do it together'."
Former Arsenal, West Ham, Luton and Celtic striker Hartson added: "If I was a Leicester player, I have just won the league, scored a bag full of goals, got into the Champions League, I would want to put my feet up for a couple of weeks and then could not wait to get back into it."
'The players adore Ranieri'
Hartson believes manager Claudio Ranieri will be important in keeping the team together.
But he says the Italian will need to add some "world class players" to his squad to cope with the demands of the Champions League.
"Ranieiri is a manager you would go the extra yard for," said Hartson.
"I had Martin O'Neill [Celtic] who I loved playing for and Mark Hughes [Wales] who I looked up to and had so much admiration for.
"You get the feeling the Leicester players adore Ranieiri.
"The team is going to a place they have never been before, and needs strength in depth, so he may bring one or two in from the continent with Champions League experience."
'Vardy will stay'
Vardy has scored 22 goals this season and the 29-year-old has established himself in the England set-up.
Hartson thinks the former non-league player will want to stay at Leicester for the foreseeable future.
He said: "He has done well enough over the past two seasons for his agent to go in [with Leicester's bosses] and make him financially secure.
"They could get money for Vardy but they do not need to sell. He is in a really good place, loved by team-mates.
"My feeling is he is in a great place, he has had wonderful season and would not be thinking about moving on."
'They don't need to sell'
Algeria international Mahrez, 25, has been linked with a move to Barcelona, but Hartson thinks that will just help his agent secure a better deal at Leicester.
Hartson added: "Mahrez has embraced being at Leicester. He has been linked with big clubs and that massages your ego, and his agent will love it.
"All the Leicester players will get big offers in, but they will reward all the players. They have billionaire owners, Champions League money, the new television deal - Leicester will have more money than they have had before and they don't need to sell."