Braintree Town: National League play-off win Thursday, back to work Friday
Last updated on .From the section Football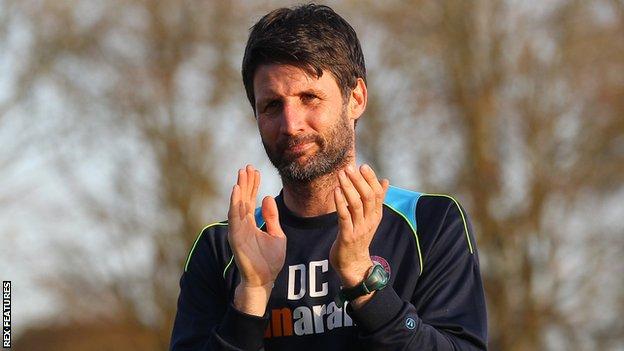 Having just won one of the biggest games in the club's history, you would expect the players to have a bit of time off to recover.
But, for most of Braintree Town's part-time squad that defeated Grimsby 1-0 in their National League play-off semi-final first leg on Thursday, it is back to the day job on Friday.
A window cleaner, a carer for disabled children and an entrepreneur are all part of the squad, as well as goalscorer, captain and London cab driver Kenny Davis, who recently passed the infamous 'Knowledge'.
Iron manager Danny Cowley, a PE teacher, told BBC Essex: "I think 14 out of the 16 are in work on Friday.
"I don't think that's a bad thing because our thoughts will be back on our jobs, otherwise we'll be getting the sack. Then we can have Saturday off and go again Sunday."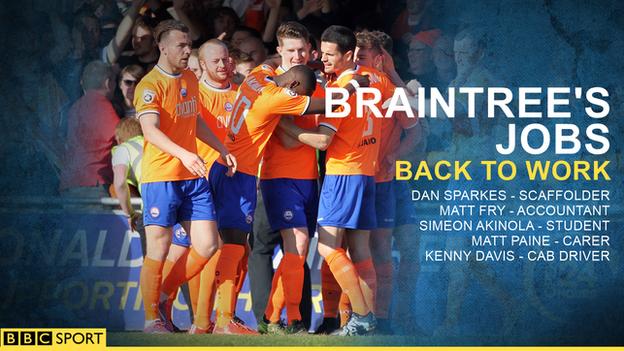 Let us hope they are not too tired in work - the team bus only got back to Essex in the small hours of Friday morning after their 360-mile round trip to Lincolnshire.
The club have never been in the Football League before, but if they defeat a Mariners side who were there as recently as six years ago over two legs they will reach Wembley and a final against Forest Green Rovers or Dover.
"The Braintree supporters have been fantastic and I think they've enjoyed the journey," said Cowley. "They're proud of the players, we're honest, working-class boys and I think the supporters can associate with that.
"We hope the whole of Essex gets behind us. For us, non-league football is a family and it'd be really great if all the local clubs would be willing to come out and support us because we'll need all the support we can."